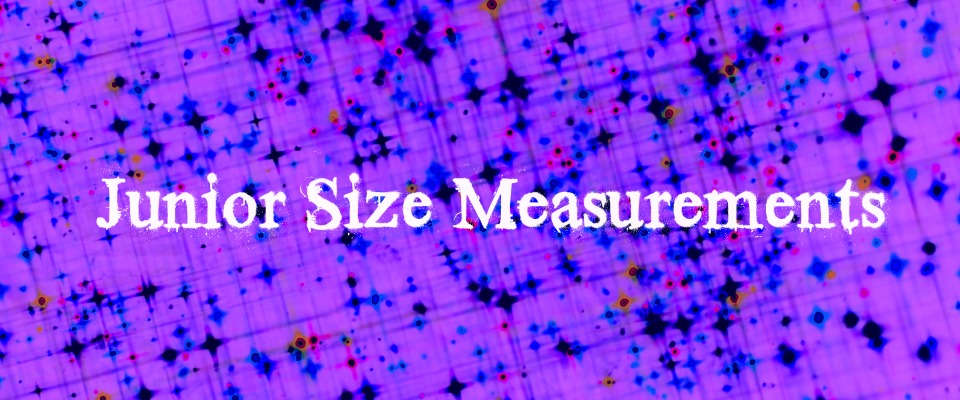 We may earn money or products from the companies mentioned in this post.
Junior Size Measurements – Here is an quick guide to those "in-between" sizes we call Junior sizes.     Need help? We'll be happy to answer any sizing questions.  Just drop us a line using the contact form in the sidebar.
 Clover Fiberglass Tape
Following is one of our "frequently asked questions" when it comes to accurate sizing –  whether it is for a standard size or a custom sized sweater.
Comparing two size ranges is easier than you think.
Get out your measuring tape because there is a difference between each size range. If you do not have a good measuring tape, buy a fiberglass tape.  Clover is the best  becausea it does not stretch!
"How do I compare misses sizes to a junior sizes? I really don't know which I should order or which size would be a better fit."
In an earlier post, we covered the differences between the junior and misses  size ranges but here are the measurements to determine specifically which Junior size comes closest to an "8" in the Misses size range.
There is one other factor which can throw off all "sizing" and measurements – how generous the manufacturer is in their idea of sizing.
The easiest way to put it is this – when it comes to comparing sizes, the more expensive the brand, the more true to size and the more generous the wearing ease.
Have you ever had the opportunity to try on various sweaters of the same size but from different labels and manufacturers?   Try it sometimes – you will be amazed.
==> See Junior Size Clothing & Sizing Options
Detailed Junior Size Measurements
The difference is not just in the finished measurements. You can also tell the difference in the construction and finishing method. The high end garments will be full fashioned (individual garment pieces are made separately then assembled) rather than completed using the cut and sew method.
The big ticket items also provide you with more wearing ease above and beyond the design ease.
Please note that in the junior size measurements chart given below , the actual measurements not the finished measurements of the garment itself.
Also, the style of a garment affects how it fits – outerwear [jackets, vests, coats and cardigans] has varying amounts of added wearing ease – they are designed to be layered over other garments.
Certain sweater styles have "negative" wearing ease – in other words they are literally smaller than your actual body measurements.
 Harry Potter Gryffindor Cardigan Sweater: X-Large
 Harry Potter Ravenclaw Girls Cardigan (Medium)
 Harry Potter Hufflepuff Cardigan (X-Large)
 Harry Potter Slytherin Cardigan /Shown in Black MED)
&
Comparing the Junior 7 and 9 to a Misses 8
We draft knitting patterns and base the standard garment sizes on the following actual measurements:
Junior 7:

Bust = 34 1/2″
Waist = 26″
Shoulder Width = 13 1/2″
Sleeve Length = 22 1/2″
Total Length = 24 1/4″

Miss 8:

Bust = 35″
Waist = 27″
Shoulder Width =14 1/2″
Sleeve Length = 23″
Total Length = 24 1/2″

Junior 9:

Bust = 35 1/2″
Waist = 27″
Shoulder Width = 13 3/4″
Sleeve Length = 23″
Total Length = 24 1/4″
As you can see, there is only a 1/2 inch difference in the bust measurement of these specific sizes.
However, the Junior 9 is closer in overall fit to the Misses size 8.  Again, it depends on the style of the item in question and the way you like to wear it.
We have a simple rule of thumb that works for many garments and for junior sweater measurements – disregard the size label and opt for the sweater that fits you.
Complete Chart – Junior Size Measurements
Here are the remaining Junior size measurements used to draft our Harry Potter® styled knitwear. For each size, every measurement can be adjusted for a near perfect fit.  To discuss sizing and measurements with us, be sure to contact us.
Junior 3:

Bust = 31″
Waist = 24″
Shoulder Width = 13 1/4″
Sleeve Length = 22 "
Total Length = 23 1/4″

Junior 5:

Bust = 33″
Waist = 25″
Shoulder Width = 13 1/2″
Sleeve Length = 22 1/2″
Total Length = 23 1/2″

Junior 11:

Bust = 36 1/2″
Waist = 28″
Shoulder Width = 14″
Sleeve Length = 23 3/4″
Total Length = 24 1/2″

Junior 13:

Bust = 37 1/2″
Waist = 29″
Shoulder Width = 14 1/4″
Sleeve Length = 23 3/4″
Total Length = 24 1/2″

Junior 15:

Bust = 39″
Waist = 29.5
Shoulder Width = 14 1/2″
Sleeve Length = 24″
Total Length = 25″
We're happy to note that the Amazon Women's Apparel Size Chart mentions the same points we give.  Remember that
A size chart is intended for reference only.
Sizes can vary between brands.
Amazon Junior Sizing Chart
Measurements are given in inches.  Reading from the left, they list the standard garment size (XS) followed by the U.S. size (0-1), the chest or bust range (31 to 32 inches), the waist range (23 to 24 inches and then the hips range (33 to 34 inches).
This size chart is not completely accurate when it comes to sweaters or the way we measure sweater fit.
XS   | 0-1/31-32/23-24/33-34
S    | 3-5/33-34/25-26/35-36
M    | 7/35/27/37
L    | 9-11/36-37.5/28-29.5/38-39.5
XL   | 13/39/31/41
Be sure to check the Amazon Apparel sizing chart for their details all clothing sizes including junior size measurements.
(Visited 219 times, 1 visits today)