We may earn money or products from the companies mentioned in this post.
Freddy Krueger Sweater Colors – Our Freddy Krueger sweater pattern is a simple design with wide stripes and a minimum of shaping and finishing.
Quick and easy to knit up, this is one of the most recognizable sweaters at Halloween!
The stitch is plain stockinette with the only patterning required being a change in colors to create those distinctive wide stripes.
We promise the knitting pattern will not result in nightmares – just a few difficult decisions:
Knit the sweater in plain dark red and green shades?
Go for a more authentic look in heathery shades of red and green?
Allow the sweater to be tattered for the ultimate in authenticity?
Or simply forget the knitting and buy a cheap Freddy Krueger sweater!
In a hurry? Take a look at these Freddy Krueger sweaters from the selection of Nightmare On Elm Street costumes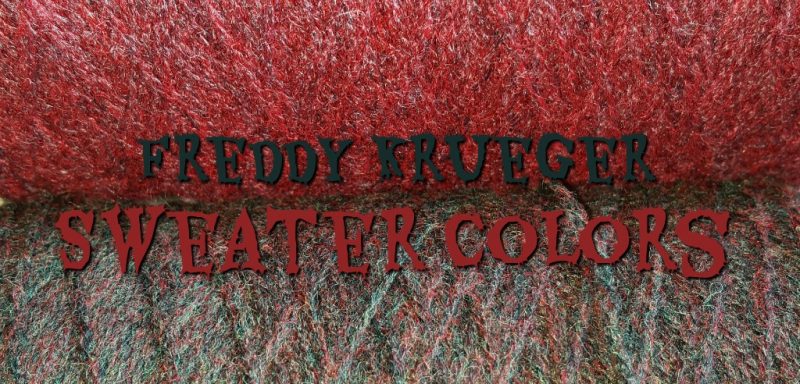 We found three signed "real" Freddy Krueger sweaters. The replica version includes a certificate of authenticity while the other two are labeled as collectibles.
Perfect Freddy K. Sweater Colors
We've had the perfect Freddy Krueger sweater colors sitting in our yarn stash for years – since that time when a certain someone asked for such a sweater and then changed their mind!
I did not knit the sweater back then – a shame really although now the yarn may allow the sweater to shred and tatter all by itself 🙂
These colors and this yarn have long been discontinued but that does not prevent me from searching for the next best colors. This time, I will find the perfect Freddy Krueger sweater colors.
When it comes to finding the right colors, we can tackle the problem in two ways:
Select inexpensive yarn with the express purpose of shredding the finished sweater edges
Spend a little more money to knit up an easily recognizable sweater you can wear more than once.
It all depends on how authentic the costume needs to be. Here are a few yarn color combinations in heathered shades we think would knit up into a spectacular costume prop.​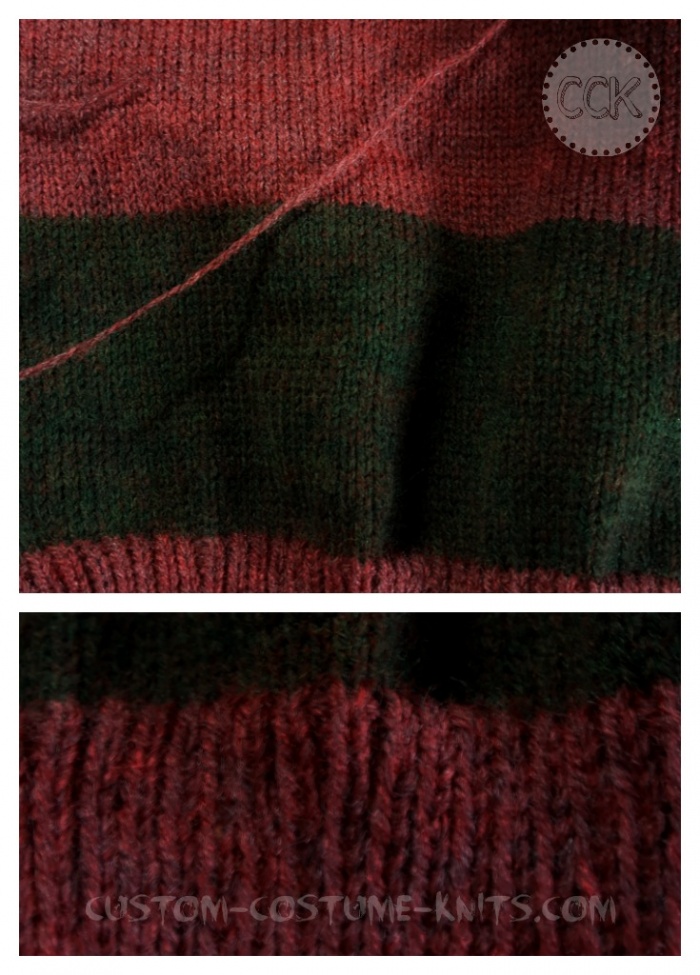 Vintage Freddy Krueger Colors
Lion Brand® Heartland
Lion Brand® Heartland Yarn in the Joshua Tree and Redwood shades.
We purchased Heatland© on sale at Joann Fabrics and Crafts.
Photos of the Joshua Tree shade are spot on. It is beautifully shaded.
Unfortunately, the photos do not do justice to Redwood shade. It is equally shaded!
As soon as we complete the fingering weight pullover sweater, we'll start on worsted weight Lion Brand©.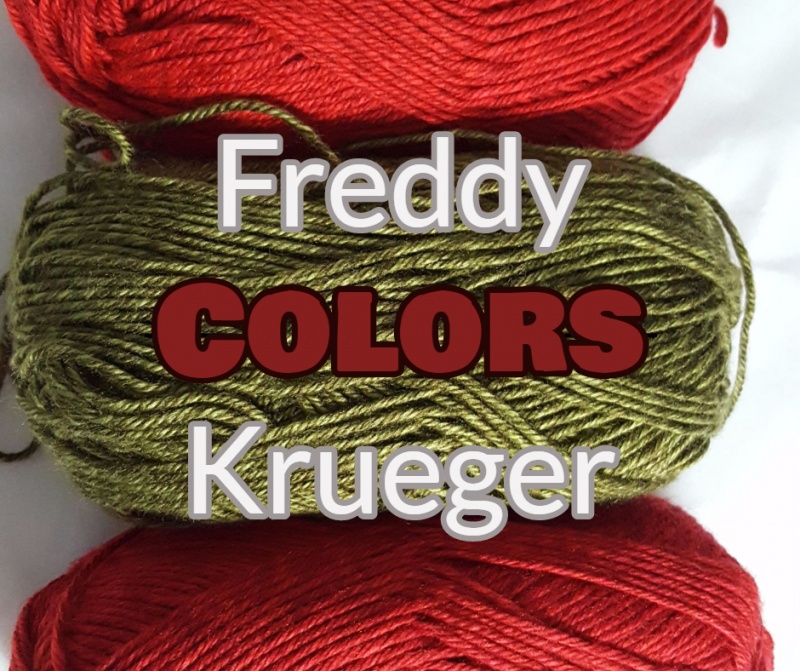 Lion Brand© Heartland in Redwood and Joshua Tree colors
Deborah Norville Everyday™
Deborah Norville Everyday™ Heathers Yarn in the Green and Red Heather shades.
Last update was in: February 01 2023, 5:19 am
I have yet to find this worsted weight yarn in a local store but ordering online is an easy option.
Last update was in: February 01 2023, 5:19 am
Mary Maxin® Yarn Colors
Another heathered color combination comes from Mary Maxim in their Woodlands yarns.  Check out the Moss and Cranberry colors.
Check your local store. Many of these yarns are not sold in stores. You need to order online.
Unless you plan on an heirloom quality finished product, this is not a sweater where you want to worry about finding two different yarns that knit up to the exactly the same stitch and row gauge.
Check our sweater measurements for ​children from 2T to a size Child's size 14.
Fudge a bit with the colors as long as you maintain the same yarn weight and yardage. In many cases, mixing two brands of yarn is necessary.
(Visited 5,397 times, 39 visits today)