We may earn money or products from the companies mentioned in this post.
Harry Potter House Sweaters – aka the school sweaters – are available in two styles (COS and POA styles ) and in all House colors.
At Custom Costume Knits, we knit and sell reproduction Harry Potter® styled  house sweaters, vests, cardigans and scarves for "Hogwarts©" school uniforms.
Harry Potter House Sweaters
Our specialty is custom-made knitwear for Harry Potter® costuming fans of all ages.
The Halloween rush is on! Order now to add a sweater, vest or cardigan to your Hogwarts© costume in time for All Hallow's Eve! Click HERE for more costume accessories.
Our knitwear forms the basis of a very traditional school uniform.
These sweaters can easily be worn by students from any public, private or day school.
In fact, costuming fans wear their Hogwarts® inspired knitwear to school or the office during fall and winter – not just on Halloween.
Inspired by the Harry Potter© books, school sweaters knits continue to be very popular with fans.


Reproductions of Both Sweater Styles!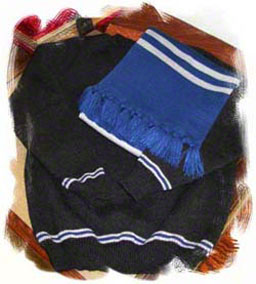 Designed to be semi-fitted, both versions give you generous amounts of wearing ease.
This allows for layering to include a white or cream, long sleeve shirt and house tie which are part of the Wizard School uniform.
If you prefer less wearing ease, we can definitely alter the fit but remember that it will be layered and that the layers "eat up" quite a bit of that extra space.
We selected the regulation school grey yarn to match the trousers or a pleated skirt available at most school uniform shops such as Buckhead® Uniforms.
Available in both the original bright colors seen in the very first movie or the more subdued school colors [even in the "book" colors of blue/bronze], the sweater is color coordinated to the Wizard Scarf.


Do you already know which version of the School Sweater is missing from your school uniform wardrobe?
Be sure to review all sizing and pricing information for the various sweaters.  If in doubt about the sizing, be sure to contact us prior to ordering to review specific measurements.
Order The Harry Potter House Sweaters
Sweaters come in a wide range of standard sizes.
Knitwear is available in all eight color combinations and styles seen in the Harry Potter® movies.
You can combine the vivid colors seen in the Chamber of Secrets© movie or Prisoner of Azkaban© muted colors.
Some customers prefer to stay true to the book with the colors of blue and bronze.
The Harry Potter house sweaters are designed to be as authentic looking as possible when compared to the original garments.
Be sure to review all sizing information for the various items.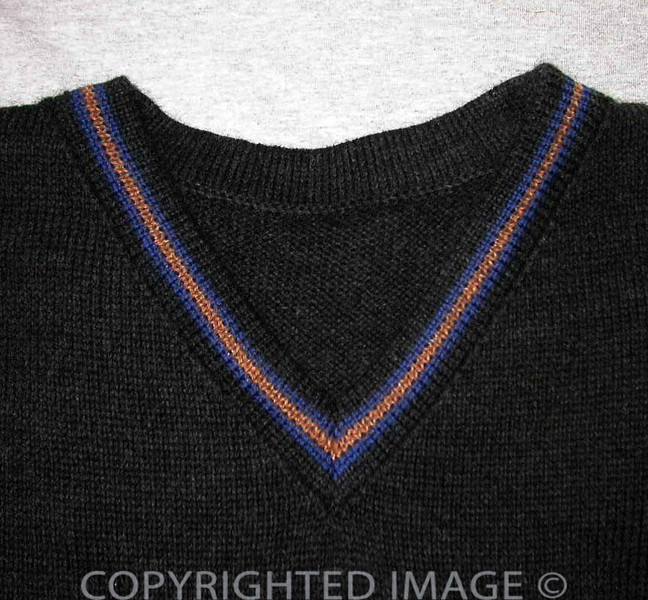 We do not copy, duplicate or reproduce any copyrighted patterns, designs. and trademarked logos.
Every single sweater, vest or cardigan is:
Available in standard sizes
Full fashioned construction, attention to detail and heirloom quality workmanship.
Knit in quality 100% worsted wool or easy care, 100% imported acrylic.
Available in authentic looking "Hogwarts©" inspired colors.
We do not knit stripes on the sleeves of the Chamber of Secrets® styled sweater.
The sleeveless vest features solid colored armbands.
Be sure to "white-list" our domain.  This way you can receive all notifications.
Sweaters, vests and cardigans come in a wide range of standard sizes.  Each item can be customized for a perfect fit.
We recommended you contact us, prior to ordering, to verify measurements and ask any questions you may have regarding sizing and fit for a specific sweater style.
Custom Costume Knits offers its customers a free virtual fitting consultation via email prior to ordering.  PayPal is our payment platform of choice.
The Harry Potter house sweaters displayed below are not authentic to the movies.   They make a nice addition to any school wardrobe!
(Visited 1,825 times, 2 visits today)