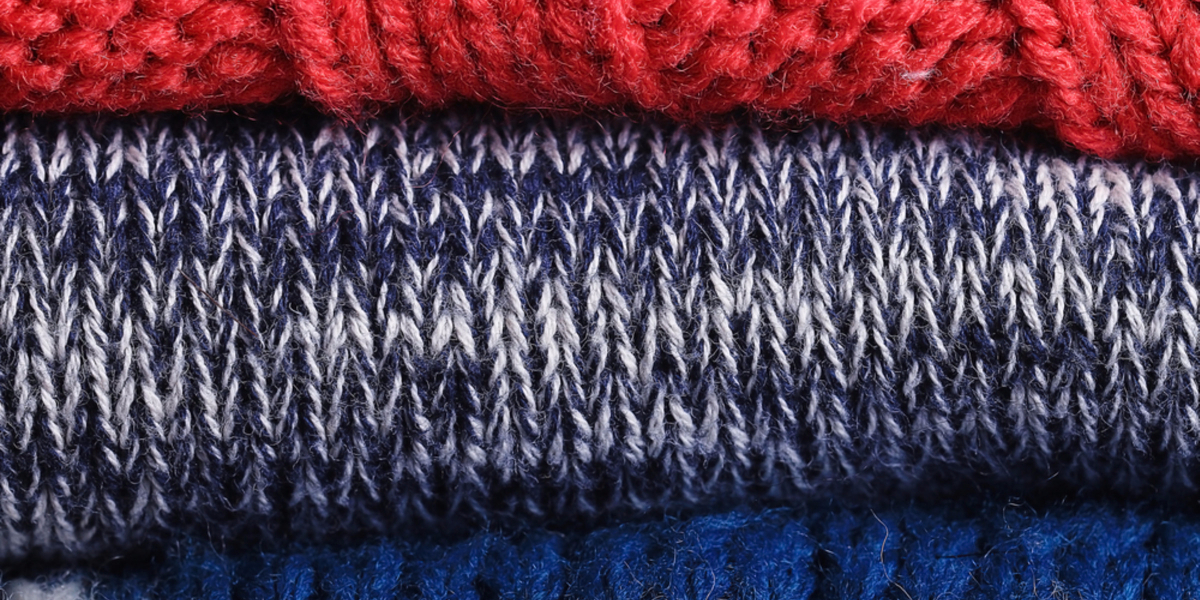 We may earn money or products from the companies mentioned in this post.
Difference between Junior and Misses sizes: Is there a difference between girls junior size clothes and regular Misses sizes?
We've put together information related to junior size clothes and sweaters to fit girls, juniors, and women along with the corresponding measurements. We also compare the fit to Children sizes and those in the "Misses" range of sizes.
A "Junior" is younger and in their early teens with a less developed body.
The sizing system for the Junior size range feature odd numbers from size 1 to 15.
Junior Plus sizes are also available. Misses sizing systems are even numbers from size "0" upwards, with 6, 8, 10 and 12 being mid range sizes.
In fact, finished measurements for our Junior and Misses sizes and commercially produced sweaters DO overlap at times.  As an example, here is the sizing chart from the popular store Hot Topic©.
Especially when it comes to knitwear! ===> See a collection of Junior Size sweaters
The differences, however, are all in the fit of these two size ranges.
From the emails we receive, it is apparent that this overlap in measurements between Junior and Misses sizes creates confusion as to which size to select.
Please note that Hobbie's sizing charts display our finished sweater measurements and not your actual body measurements.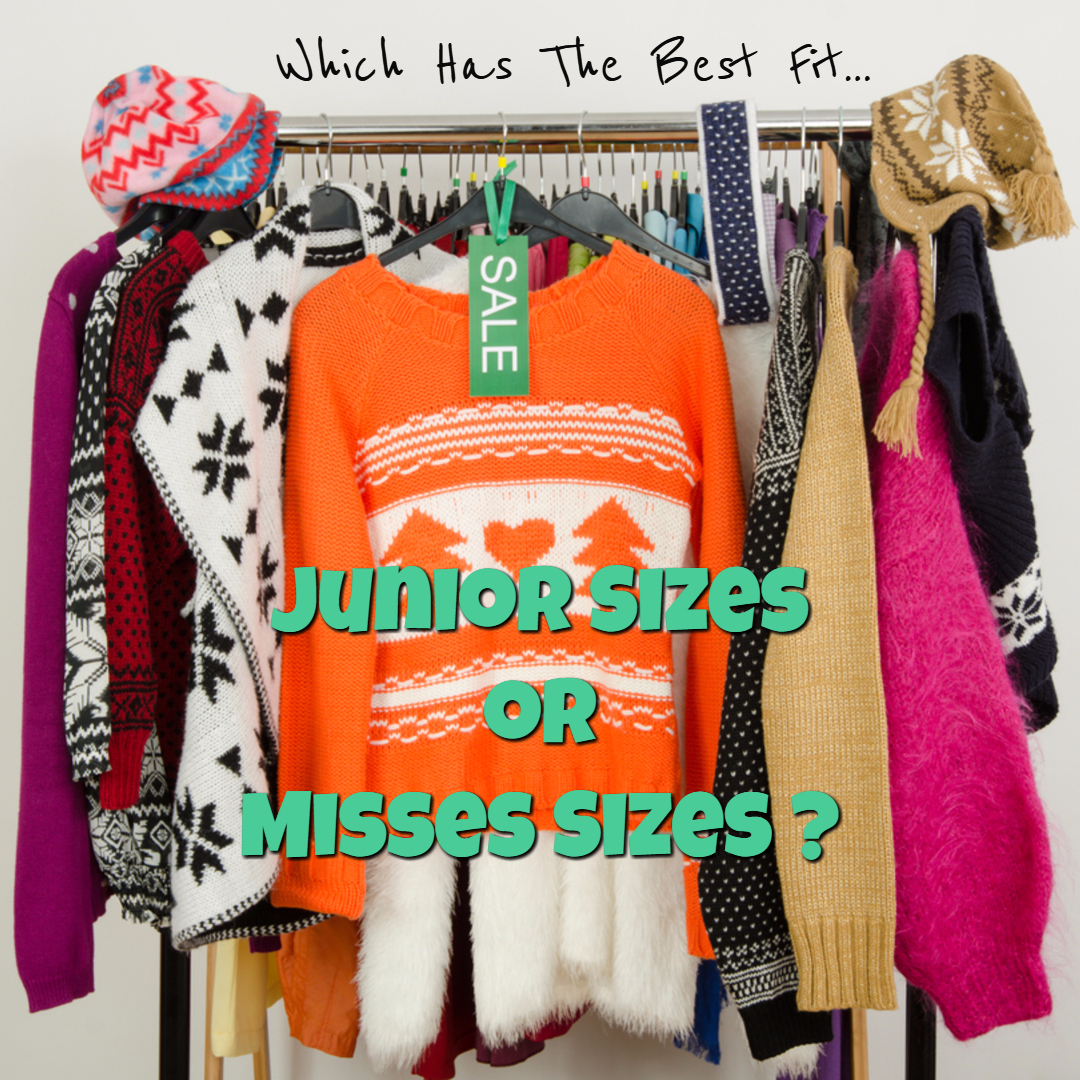 Exploring The Difference Between Junior and Misses Sizes
A great rule of thumb is that the right size is the size that fits YOU – regardless of the size label.
A size chart is merely a guideline as the same size can have very different measurements depending on the manufacturer and, just as importantly, the style of the garment.
As an example, I would have to wear 4 to 5 different sizes to get the correct fit for shoulder width, bust, waist, sleeve length and preferred total length.
We all know that's not possible unless you make your clothes.
Recognizing Design-Ease Versus Wearing Ease
We like to purchase clothes off the rack once in a while, so we turn to preferred brands. Some manufacturers are considerably more generous in their wearing ease and a rule, we can nearly always select the same size in their clothing line and be assured that it will fit flawlessly.
Just as important is the "style" factor for any garment. Is it designed to be oversized? Then it should look oversized on you.
Is it designed to be fitted or body hugging? Then it has negative wearing ease, and it is supposed to look tight when worn.
 Knits for Girls & Juniors: Contemporary Designs

Comparing Junior To Misses Sizes
Juniors sizes are the "in between", uneven sizes, labeled as 1 through 15 and designed for slimmer hips and smaller busts than the Misses sizes.
A  Junior Medium covers sizes 7 (34.5″) and 9 (35.5″).
A Misses Medium covers Size 8 (35.5″) and Size 10 (36.5″).
The Misses size 6 (34.5) is closer in measurements to the Junior 7.
Generous wearing ease is not a given with certain manufacturers.   Less fabric per garment equals more inventory to sell. In other words, clothing is one retail item where you pay for the amount of yardage used to complete the garment, be it sweater fabric or woven fabric.
Our motto? Ignore what the label says, pick the best you can afford and the size that fits YOU.


Sizing For Custom Costume Knits
At Custom Costume Knits, we size our sweaters according to bust/chest measurement, although you should take your shoulder width into account as well.  Just provide us with a correct measurement – we'll adjust the pattern draft were needed.
Broad shoulders eat up sleeve length.  If you have broad shoulders, check our Men's sizes. These are drafted with a wider back shoulder width than for a woman, Men's sweaters do not fit a woman's body as well as those specifically designed for the ladies.
Junior or Misses, we use a modified set-in sleeve style which allows more freedom of movement in the shoulder and armhole area.  The armhole depth for this type of sleeve is just a bit of added information and should not be considered when selecting one of our sweater sizes.  It's just nice to know that the armholes are never going to bind or cut off circulation. 😉
Each Sweater Style Has A Specific Sizing Chart
We recently completed a Junior 3 sweater which is close to a Child's size 10 and a Ladies size 2.
At first glance, one would not notice the difference.  The chest measurements are very similar indeed but that is where the similarity ends.
But…the "fit" for each size range is completely different.
Children have virtually no waistline.

Juniors have a longer torso and are taller than children.

Misses have a more developed and proportioned figure than Juniors.
Not All Size Charts Are Created Equal!
Size charts vary from one manufacturer to another. Why? Each manufacturer follows their set of measurements.  It is the perfect reason to try something on before you buy it.
You can select five sweaters labeled Junior 7 and find that none of them fit the same way.
One of the reasons these garments of the same size will fit differently depends not only on how the manufacturers cut/sew/knit their clothing but especially their target market.  Is it designed to be a "costume prop" or wear a "designer label"?
Unfortunately, the adage that the more expensive it is, the better it is made comes closer to the truth than we all want to admit.  Junior sizes do not escape this observation.
Time For A "Sizing" Quality Check
Here are a few secrets to determine how well garments are assembled and how well they will fit, regardless of the size range:
Look inside the sweater or shirt, especially along the side seams.
Determine how the pieces were manufactured.  Are the seams sewn and overlocked in a single process? Are the seams sewn and the seam allowance overlocked?
Cheaper garments have virtually no seam allowances on any part of the garment.  If one thread goes you run the risk of being "disassembled" on the spot.
The more expensive garments are assembled with straight seams which are then overlocks to prevent unraveling of the fabric. Pieces are attached individually.  It take much more time to finish the garment.  As a result, the finished product is more expensive.
Sweaters follow the same assembly process.  Cheaper sweaters are cut to size and shape from knit fabric yardage and entirely sewn together.
More expensive knitwear is made in individual shaped "pieces" and assembled as one would put together a sewing patterns.  There are no visible seam allowances.
Cutting knit fabric is not unusual.  Even among the most expensive knits, there are many instances where the knit fabric is deliberately cut.  Commercial necklines are cut from sweater pattern slopers. You can make your own pattern sloper for a perfect fit!
Think of any size chart as a guide, not something written in stone. No two commercially produced garments  in an identical size will ever fit the same way.
 Simplicity 7184 Sewing Pattern Juniors Full Figure ROCK STYLE Coat Vest Top Pants Size 7-24
 SIMPLICITY PATTERN 4604 JUNIORS' PLUS MINI SKIRTS AND TOPS SIZE AA 5/6-15/16
 Simplicity Grooves! 9063 Sewing Pattern Knit, Dress and Top – Size AA Junior sizing 3/4 – 9/10
 New Look Sewing Pattern 6480 Junior Special Occasion Separates, Size A (3/4-13/14)
&
Note:  Sewing patterns have changed a great deal over the years.  When comes to Junior Sizes versus Misses Sizes, if your hobby is sewing and you find that perfect "vintage" pattern, be sure to check the sizing and measurements.
(Visited 814 times, 11 visits today)