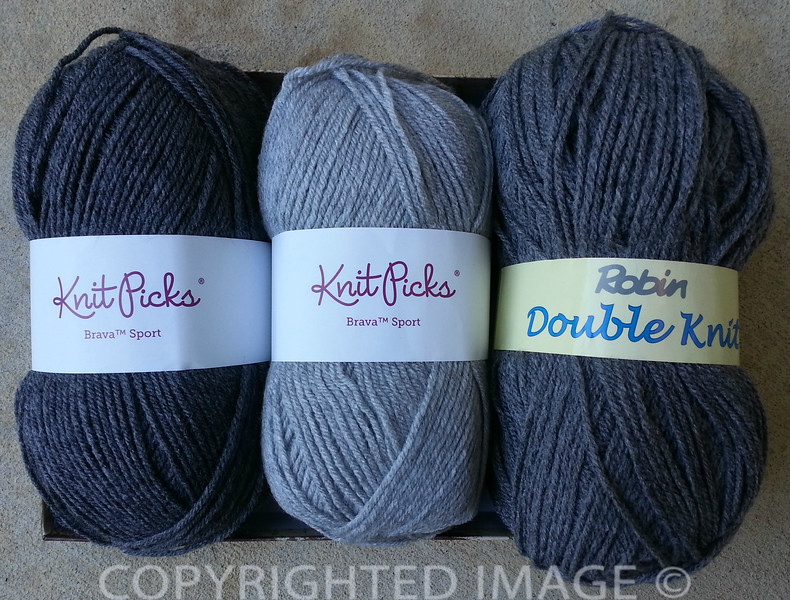 We may earn money or products from the companies mentioned in this post.
Harry Potter House Colors – Here is our guide to locating yarns in authentic colors but what are the House colors for Wizard School aka the Hogwarts® Uniforms worn to class?
Here again, there are many differing opinions as to what constitutes "authentic" shades.
Harry Potter House Colors – Authentic or Not?
Do you own an original sweater or scarf?  As in the actual items worn in the movies?
It is nearly impossible to know with certainty (unless you are in on the original list of materials) that a specific yarn color is an actual shade to represent a Hogwarts® House.
I love these [popup_product]2 by 2 rib scarves[/popup_product]! The "Celtic Green" is perfect for a POA scarf while the "Emerald" was made for the COS style.  At 22 stitches and 28 rows to the inch, it is easy to find a yarn to use as a contrast color if you do not want to use a tweedy shade.  Customizing is fun so make any scarf your own by selecting your perfect color – even if they are not the same yarn.
How close you want to come to the authentic shades of yarn is a matter of personal choice.
Unless we have a stash of the very same yarn used to knit the original sweaters and scarves, the best we [popup_product]Muggles[/popup_product] can do is try to match the original colors as closely as possible.
☑ Use luxury fibers for heirloom quality knits!
How about
cashmere yarn
or alpaca
? Don't overlook
silk yarns
.
Colors By Brand
Let's discuss brands and colors which passed the House Colors authenticity test.
Since 2001, we've researched the colors and selected those we felt were a close match, close enough to produce authentic looking reproduction knitwear.
Please note that we list suggested colors.  Where we think there are no accurate matches, we do not list any color at all.
 Unofficial Harry Potter Knits Special Issue 2013 Interweave Knits

 Charmed Knits: Projects for Fans of Harry Potter by Alison Hansel (2007-05-04)

Knitters can locate a yarn, of the same weight and fiber content, as a replacement, in a shade that represents their idea of an acceptable, authentic House color.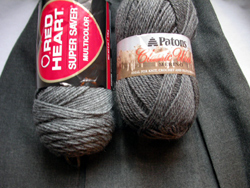 Case in point…
We use wool yarn from three different manufacturers just to achieve our idea of color accuracy for the "Prisoner of Azkaban©" styled sweaters.
Patons© Classic Wool is a readily available wool fiber.
Brava™ Sport from Knitpicks© is the premium quality acrylic yarn we use for our costuming sweater samples.
Economical To Expensive Yarns
Our favorite wool for costuming purposes is Patons® Classic wool which is available in a large selection of shades – 46 shades at last count.
It knits up smoothly, creates a beautiful knit fabric with a soft hand.  Classic Wool has great yardage and depending on the style of wizard wear you intend to make, very economical for an heirloom quality sweater.
How Much Will The Yarn Cost?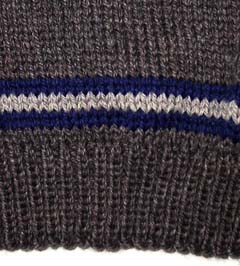 Found at craft stores such as Michael's© and A.C. Moore©, Classic Wool is sold anywhere between $4.00 on sale, to $7.00 per skein at regular retail and even close to $9.00 a skein at Walmart©!
Moral of the story is to stock up on this wool yarn when you see it on sale.
It is not the most economical yarn if you are looking to knit up a "cheap" costume prop but why spend your time knitting if the resulting sweater looks home-made rather hand-made and only looks good until the first washing?
What is the "round about cost" of materials for an adult sized pullover? We spend close to $70.00 to $80.00 purchasing Patons Classic Wool
to knit up a Misses size 12 "Stripemione" crewneck pullover.
Materials for the same sweater in Red Heart© acrylic would cost approximately $15. to $20.00 but there is a night and day difference in the "feel" of the finished sweater.
You're going to spend the same amount of time knitting so why not knit with something that will last a little longer and look so much better?
Knitting Yarns For Hogwarts© Styled Knits
Off to select knitting yarns for your Harry Potter© knitwear?  How important is it to select the right yarns for your project?
It is very important – particularly if you are aiming for an authentic looking garment in nearly authentic colors.
You may consider this project as nothing more than knitting a quick costume prop but why spend the money for the yarn and invest the time if your completed sweater or scarf just does not look as good as it could be?
Even a new knitter can benefit from using a good quality yarn for their first knitting project. Even for your first knitting project, consider ==> Quality Patons Knitting Yarns
Make Dark Gray Mix The Main Color
Interested in knitting a wizard sweater or vest? We use the Dark Grey Mix #00225 for Wizard School sweaters and vests. Here are the details on what will surely become your favorite knitting yarn:
Tension: 20 stitches – 26 rows = 4″ (10 cm)
Suggested Knitting Needle: 4.50 mm, US – 7
Suggested Crochet Hook: 4.50 mm, US – 7
Care: Hand washable. Lay flat to dry.
Content: 100% Wool
Put-up: 3.50 ounces/100 grams, 5 Balls/Package
Length: 223 yards/205 meters
 Patons Classic Wool DK Yarn – (3) Light Gauge 100% Wool – 1.75 oz – Dark Grey – For Crochet, Knitting & Crafting
 Patons Classic Wool Bulky Yarn (89042) Dark Grey Heather
Natural or Synthetic Knitting Yarns?
While acrylics, wool and cotton are the most widely used fibers – and relatively inexpensive knitting yarns for this type of costume project – there are other fibers you could use to create a one-of-a-kind garment.
Depending on your budget and preferences, your sweaters, vest, cardigans, and scarves can also be knit in the following natural fibers: alpaca, cashmere and silk.    I don't consider any sweater knit in cashmere to be a costume prop – it becomes an heirloom quality item!
A website visitor once asked why we did not offer the Wizard School sweater in cashmere.  Actually we can offer Hobbie's wizard wear items in any fiber, including cashmere. However, the average sized sweater, knit in a sports weight cashmere yarn would cost nearly three hundred dollars in materials alone.
The alpaca is definitely the least expensive choice of these luxury fibers. It also available in a quite a few scrumptious Wizarding colors.


Synthetics Come In Several Qualities
Synthetics fibers – a.k.a. acrylics, nylons etc. – are substantially less expensive than natural fibers. Some brands are quite cheap.
On the other hand, high quality acrylics and acrylic/wool blends from premier manufacturers can be as expensive as wool.
Both the inexpensive and the more expensive acrylics and blends [acrylic/wool] are available in a myriad of eye popping and traditional colors.
However, the colors are not going to be as "true" to Harry Potter House colors. As a result, for Wizarding purposes, the more authentic color palette will be found in the natural fibers.
What are the benefits of a sweater knit with synthetics fibers? It is perfect for those who are allergic to wool, lightweight, quite warm and a breeze to care for.
Are There Other Yarn Choices?
Sure…There are many other double knitting or worsted weight knitting yarns available to knit our wizard wear sweaters and scarves – both in natural fibers like cotton blends and synthetic fibers.
Brown Sheep's Nature Spun is another favorite. So is Plymouth's Galway.
All manufacturers carry a shade of medium grey. Only one minor problem exists with any selection – can you find the perfect House colors?
If you cannot find contrast colors in the same brand, use another brand but make sure both the main color and the House colors are wool or acrylic AND that the weight of the yarn is the same as well.
We also use Lion Brand Wool Ease
, Red Heart© and Knit Picks® yarn in Harry Potter House colors to knit sample sweaters.

Wool Versus Acrylic Fibers
Wool yarns are going to have richer, more authentic looking House colors. The colors look more natural than their acrylic counterparts. Yes, acrylics are easy to care for but the color are not as deep and rich.  Wool will also last longer than acrylic fibers.
Our suggestion is to go with acrylic for a costume prop or a child's quickly outgrown sweater. Knit sweaters with wool if the item is to be worn as a Halloween costume prop and through the winter.
---
Knit Picks® carries cotton yarns in several weights: fingering, sports and worsted.  The various yarn weights do not carry authentic looking colors for all Hogwarts® houses.  For example, we feel the following shades are prefect for 2 Hogwarts® houses:
Comfy® Worsted Weight Yarn  – 75% cotton/25% acrylic:
"Hawk" as the main color
 Pomegranate & Seminola
 Douglas Fir & Whisker or Silver Sage
These colors are also found in the sports weight.
Comfy® in fingering weight offers the perfect book colors: Planeterium and Doe.  The color Planeterium combined with Whisker are prefect for a very popular POA House!  You can also use Douglas Fir & Whisker but will have to go for Hollyberry red in this weight.
---
Brown Sheep Knitting Yarns
– Lamb's Pride Worsted
: 85% wool/15% mohair.
Knits up at 4.5 to 5 stitches to the inch on size US 7 or 8 knitting needles. Our selection of Harry Potter House colors for the New Style sweaters:
#6 Smoke
#14 Gold
#26 Medieval Red
#170 Pine Shadow
#3 Grey
#82 Blue Flannel
#130 Silver
#14 Gold
#5 Onyx
Averaging $6.00 to 6.75 per skein, materials for a Medium Ladies 12 or Men's 38 sweater would cost $75-80 in materials.
---
 Bulk Buy: Lion Brand Wool Ease Chunky YarnGreat Charcoal Grey Color!
Lion Brand Wool Ease
[80%Acrylic/20%wool] in Chunky and Worsted Weight; Kool Wool [50% Merino Wool/50% Acrylic], a yarn with a beautiful cable twist.
New Style Harry Potter House Colors:
Main color: #152 Charcoal [chunky] #171 Gold
#142 Claret in "Kool Wool"
#114 Denim
#151 Grey Heather
Original Harry Potter House Colors:
#138 Cranberry
#189 Butterscotch
---
Red Heart by Coats & Clark is an inexpensive, worsted weight yarn which will knit up into an low-cost costume prop.
100% acrylic, machine wash and dry, and only $2.19 per 6 ounce skein at Joann Fabrics!
The Grey Heather [color 0400] is perfect for the original wizard school uniform sweater – you only need 2 [348 yards, 6 ounces] skeins to knit the vest – and US #8 knitting needles.
Solid Harry Potter House colors come in 482 yards, 8 ounce skeins. Other suggested colors:
#0376 Burgundy
#0321 Gold
#387 Soft Navy[original]
#41 Light Gray
#380 Windsor Blue [new style]
#41 Light
#368 Paddy Green[original]
#41 Light Gray
#389 Hunter Green [new style]
#41 Light Gray
#321 Gold
#312 Black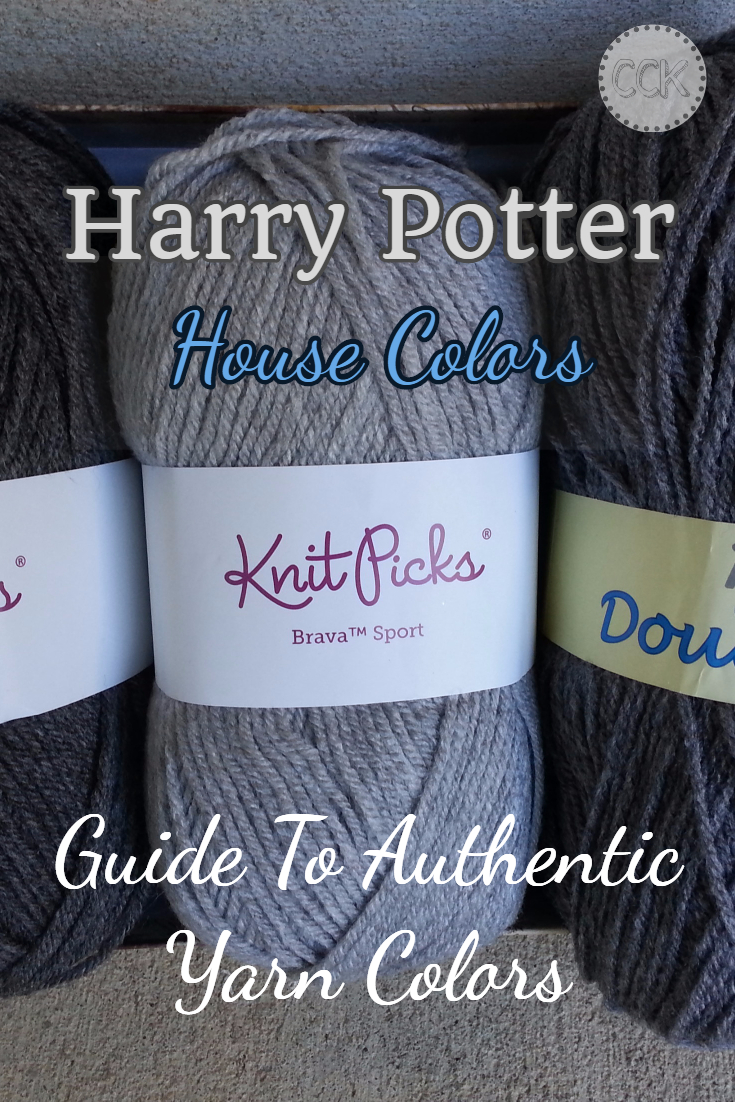 Accurate Stitch & Row Gauge Matters More
The choice of materials to use belongs to the knitter. Remember that in order for any sweater, vest or cardigan to be the correct size, according to the measurements given in the knitting pattern, it is not the type or brand of yarn you knit with that matters, but the accuracy of the stitch and row gauge.
If you feel your knitting gauge is somewhat off from the suggested stitch and row measurement, be sure to follow the measurements on the diagram.
At Hobbie's House, we consider the diagram to be more important than the written instructions. The diagram is the blueprint of your knitting pattern.
All you need is a stitch and row gauge, a stitch pattern [for wizard sweaters, it is plain stockinet stitch] and accurate measurements.
Check the measurements given on the diagram and you can automatically determine if the finished garment [including wearing ease] will fit you.
How Much Yarn Do You Need?
A Misses' size 14-16″ vest requires approximately 12 ounces or four skeins of the main color plus one skein each of the Harry Potter House colors in a mid-range yarn.
To knit a Misses size 10, long sleeve sweater you will need 11 skeins (or nearly 1400 meters) of a premium wool and acrylic blend.
A Child's size 10 school sweater needs about four skeins and a Misses size 10 school sweater knits up with a little more than five skeins of "classic wool".
The amount needed to complete a project varies greatly from one yarn to another depending on the yardage per skein.
When looking at yarns in Harry Potter house colors, always purchase the main color from the same dye lot!  If you cannot find the entire amount in the same dye lot, use the odd lot skein for the cuffs and neckband as long as the color is barely distinguishable from the rest of the yarn.
Colors can also vary a great deal from one dye lot to another – even in the same shade.  Please note that solid colors usually have more yardage than tweeds and variegated yarns.
Knitting Yarns & Yarn Weights
For quick and easy knitting, select a double knitting or worsted weight yarn. These knit up on US size 6 through 9 needles.
Do not mix natural and synthetic fibers within the same sweater unless you plan on never laundering or dry cleaning the finished sweater.
If you decided on wool…knit the entire sweater in wool.
Take the time to shop around for your yarn. Ordering online is fine if you know what your yarn will look like.  Do not rely on your web browser to give you a true color rendition.
In our research for materials to knit the wizard sweaters, we have been very surprised to find that some colors we ignored were "spot on" when seen in person and others, which looked just right were in fact all wrong.
Substitute Yarns In The Same Weight Group
Don't be afraid to substitute yarns. Stay within the same weight group. You will still have to knit a sample to verify that the stitch and row gauge matches the numbers in the pattern.
If you cannot find the yarn specified in the knitting instructions, use the needle size and the stitch and row gauge as a guide to selecting a different yarn.
When substituting yarns, remember to match the yardage called for with the original yarn. Check the skein band for all the required information.
The Skein Band Tells Story
Fiber content
Color and dye lot [buy all your yarn from the same dye lot]
Weight in grams or ounces and yardage Care instructions
The recommended size of US and metric knitting needles and crochet hook
A mini diagram of a recommended stitch and row gauge over 4″ and 10 cm.
[yellowbox]Check out  
The StitchGuide.com
complete with videos, instructions, illustrations and practice patterns. Choose your craft, "search" and your will find everything you ever wanted to know on the subject.[/yellowbox]
Where To Buy Knitting Yarns In Harry Potter House Colors
Check out your local Hancock Fabrics© (if you still have them in your area) and Joann© stores for Lion Brand and Coats & Clark [Red Heart] yarns. Economical yarns  are perfect when knitting  an inexpensive costume prop.
Michaels© craft stores also carry Lion Brand and Red Heart yarns.
JoAnn© carries the following yarn brands:
Bernat©
Lion Brand knitting yarns – our suggested colors are listed above
Decor – Paton's© acrylic and wool is a great yarn for the New Style sweater: It's called Rich Grey Heather
Patons's Canadiana©  – This acrylic yarn has a color called Dark Grey Mix..also ideal for the New Style sweater
Coats & Clark knitting yarn – Red Heart – our suggested colors are listed below and more…
Shopping Online?
If shopping online, Herrschners is a great place to look for Plymouth yarns. Their yarn department is divided into categories of knitting yarns by:
Yarn Brand
Fiber Content and Type
Fiber Weight
If you happen to live in the central Wisconsin area, Herrschners has an Outlet Store!
Don't overlook this source – you may find exactly what you need for your next knitting project.
Support Your Local Yarn Shop!
Our personal preference is to support any local yarn shop.
Consider supporting a small business owber when searching for Harry Potter House colors. Yes, the yarn will be slightly more expensive but the trade-off is well worth the extra money spent.
Bought too much yarn? You can take it back.
Need help with your knitting? You can ask a question from an expert knitter.
One of our favorite reasons for visiting the local [popup_product]needlecraft[/popup_product] store? The bargain basket – where odd skeins, previous dye lots, and discontinued designer yarns are available for sale. We have knit spectacular, one-of-a-kind sweaters from bargain basket finds.
For many, however, the nearest yarn shop is quite a distance away but why not make an outing of it?  I enjoy every minute of the adventure.
Calculate adjustments before you begin to knit and start your Halloween knitting project using the best yarn selections for Harry Potter House colors.
Save

Resources:
(Visited 9,716 times, 100 visits today)