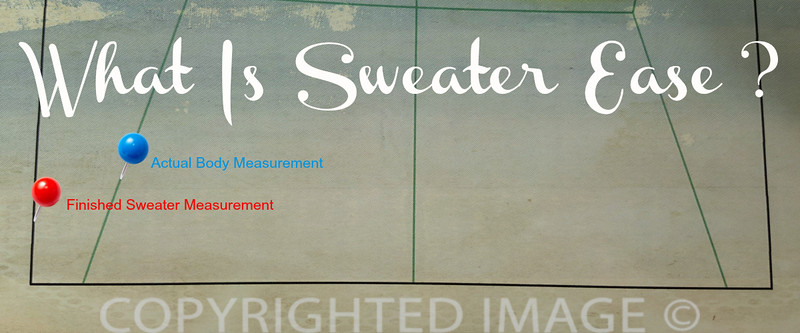 We may earn money or products from the companies mentioned in this post.
Sweater Design Ease –  Wearing ease is just another topic in a long list of frequently asked questions we receive from potential customers.  What exactly is it? Sweater ease is comprised of both wearing and design ease.  They are critical to the design of a sweater and built into the knitting pattern.
In knitwear design, design ease is a visual element – the factor that attracts the knitter to a particular knitting pattern – the retro styled, pearl buttoned, clingy little "starlet" cardigan or the big, comfy looking jacket that will take you through the chilliest day of winter.
Sweater Design Ease: Those Extra Inches Matter
Wearing ease is a necessary component of the actual sweater design.  Without it, any sweater would fit as if it had been sprayed on.
 Adapting and Drafting Knitting Patterns for Great Knitwear
Wearing ease – adjusted to personal preferences – makes your sweater fit perfectly. Without it, you would be unable to move when wearing the sweater. We're talking beyond clingy and form fitting.
Knitting Pattern Essentials: Adapting and Drafting Knitting Patterns
So what is sweater ease? It is an integral element of the garment design itself.
The new knitter should be aware of the role the ease factor imparts to the sweater, cardigan, or vest pattern.
Woven textiles, even double knit yardage and other knit fabrics do not have the amount of elasticity found in sweater knits.
Sweater fabrics have the highest amount of stretch.
In a hurry to learn knit to fit techniques?
Ease Into A Perfectly Fit Sweater
What is a perfect fit? It is a combination of both wearing and design ease which are critical to the design of a knitting pattern and the fit of the finished sweater.
What Is

Wearing Ease

?
Wearing ease is an extra amount of knit fabric added to any knitwear design.
It allows your body to move within the completed garment. Without wearing ease, your sweater might stretch enough to "fit" but it will either cling like a second skin or not have the look as the designer intended.
Drafted to standard measurements for a particular size, knitting patterns have a built-in, minimum amount of wearing ease. Directly related to the design, the fit, and the size of the actual garment, ease must not be ignored.
Two inches of wearing ease is a standard amount. Considered as generous wearing ease, three to four inches can also qualify as a normal amount.
The amount of wearing and design ease drafted into a knitting pattern varies from one individual size to another. It also varies between patterns drafted for Men, Misses, Petites, and Plus sizes.
An accurate stitch and row gauge is the cornerstone of all knitting pattern directions and determines the outcome of all your efforts – in other words, the size and fit of the sweater.
Inaccuracies in the specified gauge directly affect the wearing and design ease and the finished measurements of your knitting project.
As a rule, knitting patterns do not list actual body measurements. However, they do provide the "finished" measurements, which always include ease.
The finished measurements listed in a knitting pattern equal your actual measurements and wearing and design ease. Actual measurements are the dimensions you obtain when placing a tape measure over foundations garments.
For example, if your bust or chest measurement is 36 inches, and the pattern lists a finished measurement is 38.5 inches, the added wearing ease for this particular sweater style and size is two and a half inches.
The amount of wearing ease included for any given size is easily determined by comparing your actual measurements to the finished measurements given on the diagram. While you compare the two sets of numbers, keep certain measurement factors in mind.
The back shoulder width is a very important measurement. Verify the shoulder width measurements against the measurements provided in the pattern. Try to visualize your shoulders as the frame that supports the sweater. When the shoulder width is correct, the sleeves hang correctly and fit well. For a customized fit, lengthen or shorten the sleeves as needed.
The correct placement of the sleeve cap depends entirely on an accurate shoulder width measurement. The widest part of the sleeve, immediately before the underarm decreases, when placed in the proper position, falls across the upper arm.
The widest part of the sweater body will also be in the right place resulting in a good fit across the chest. For those with a larger bust line, knit-in darts will add the needed inches across the horizontal chest measurement. Bust darts also add wearing ease to the vertical measurement – shoulder line at the base of the neck, over the fullest part of the bust down to the bottom edge of the sweater – to prevent the sweater from riding up in the front.
Sweater length includes a certain amount wearing ease. Are you tall? Are you a petite? A wonderful aspect of knit fabrics is that they move in every direction.  Don't forget that knits also stretch lengthwise – especially heavy, bulky sweaters.
A sweater can be short in length, as in cropped styles, as long as other points of measurement are accurate and other design features, including the all important ease factors play their assigned roles into the knitting pattern design.
Often ignored by eager new knitters, ease plays a very important function in the overall look of the completed garment. Is your sweater supposed to be close fitting or "oversized"? This is where design ease plays a role – either as negative or positive ease.
What is

Design Ease

?
Design ease is the additional amount of knit fabric, beyond wearing ease, which is added to create a certain style or look such as a purposely-over sized sweater, a cardigan or sweater jacket.
Jackets and coats generally have 8-10 inches of ease.
While pullover sweaters may have generous amounts of wearing ease, cardigans require even more ease. Normally worn layered over several garments, cardigans have as much as five to six inches of added ease.
Design ease can also be a negative amount. Extremely fitted, ribbed pullovers have negative wearing/design ease – as in actual measurements minus one to two inches. Why? Because ribbed fabric is very stretchy!
 Sweater Design in Plain English
 Knitting To Fit: Learn to Design Basic Sweater Patterns
 Sweater Design in Plain English
What is the answer to the what is sweater ease question?  Varying amounts of wearing ease and design ease produce various designer styles:
Very fitted [often equal to negative ease],
Fitted, [+1 to 1.5 inches],
Semi-fitted or average [+ 2.5 to 3 inches],
Loose [+ 4 to 5 inches] and
Over-sized [+ 6 to 8 inches].
Outerwear [+ 10 to 12 inches]
Some garments such as jackets and coats can have as much as 10 inches of added wearing ease!  Loose and oversized sweaters often give the impression that a buyer "fits" in a smaller size.  When ordering our knitwear, please note that we use semi-fitted or average wearing ease when drafting personal patterns.
As an example, if your actual chest measurement is 34 inches, the finished sweater will measure 36.5 to 37 inches at the chest level.
Yes, the smaller size may technically fit but they've lost the intended "look" of the design.  If the wearer plans on layering the pullover sweater over a shirt or turtleneck, you have in effect lost the space required to layer these garments and still maintain the proper fit. Cardigans are slightly more forgiving but still have their ease limits.
(Visited 1,051 times, 4 visits today)