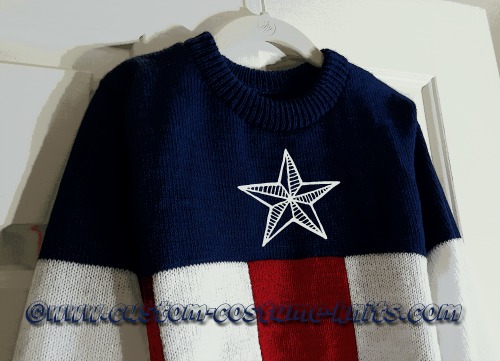 We may earn money or products from the companies mentioned in this post.
Superhero Sweaters – We've started a collection of marvelous knits for Halloween.  We'll be knitting one of a kind sweaters, cardigans and more.  Just to keep the design juices flowing.
For the first time in years, our knitting equipment decided to show signs of wear and tear.  We opted for a complete overhaul rather than a temporary fix.
While the shop was silent, we kept busy reading the comics and drawing inspiration from superhero costumes.
As we design the sweaters, we'll write up a knitting pattern in a Medium size.
In a hurry to assemble a marvelous costume?
====> Look over the best Captain America costumes & apparel
!
[prosperInsert q="Captain america costume" gtm="merchant" v="list" id="Marvel_Comics_Captain_America_Costume_Suit_Youth_T-Shirt~Marvel_Super_Hero_Squad_Captain_America_Costume_Accessory_Soft_Shield~Marvel_Comics_Captain_America_Costume_Juvenile_T-Shirt~Marvel_Comics_Captain_America_Costume_Mask_Full_Zipper_Hooded_Juvenile_Sweatshirt~" ft="fetchProducts" imgt="original" fb="Marvel_Super_Hero_Squad_Captain_America_Costume_Accessory_Soft_Shieldquery_Captain america costume_~Marvel_Super_Hero_Squad_Captain_America_Costume_Accessory_Soft_Shieldquery_Captain america costume_~Marvel_Comics_Captain_America_Costume_Suit_Youth_T-Shirtquery_Captain america costume_~Marvel_Super_Hero_Squad_Captain_America_Costume_Accessory_Soft_Shieldquery_Captain america costume_~Marvel_Comics_Captain_America_Costume_Juvenile_T-Shirtquery_Captain america costume_~Marvel_Comics_Captain_America_Costume_Mask_Full_Zipper_Hooded_Juvenile_Sweatshirtquery_Captain america costume_~"][/prosperInsert]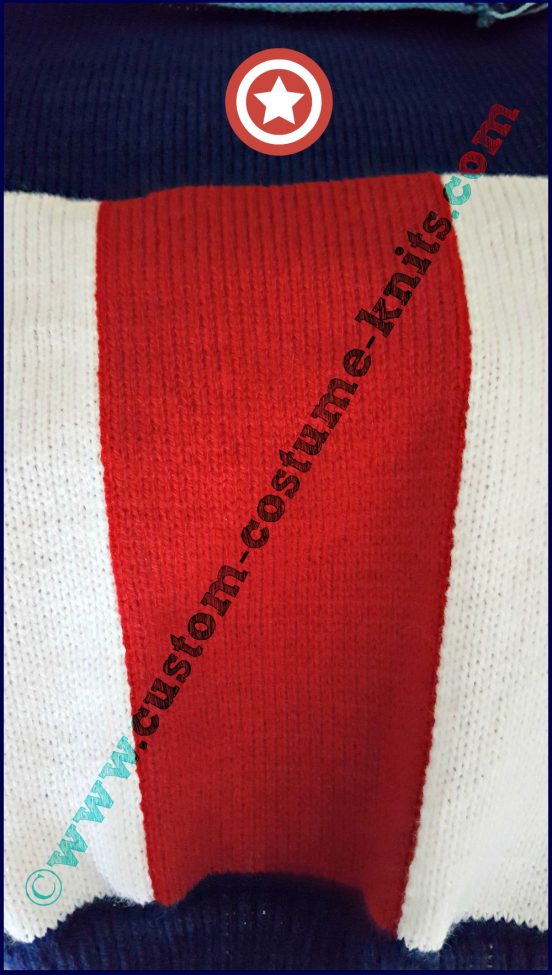 "Marvelous" Superhero Sweaters
Do you have a favorite superhero from the Marvel© comic books?
Our next sample is a Captain America cardigan – it is probably nowhere to be seen in the comic books but the colors are too patriotic to resist.
So into the yarn stash we go.  🙂
This sample sweater would be perfect for a child's Captain America costume and depending on the amount of yarn in the right colors we have on hand, we might consider knitting a medium size for an adult Captain America costume.
[yellowbox]August 14 
Update:
  We charted out a "patch" to embroider at the top of one or both sleeves. The embroidery design will be included in the
knitting pattern
.  The side seams need to be mattress stitched and the yarn ends tucked away.  This superhero sweater is taking a little longer than expected to complete because the production line is open again.  But –  we're writing out all the knitting details as we move along. [/yellowbox]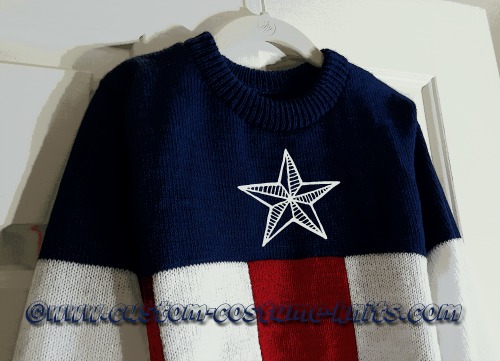 Have questions? Send them our way.  The next few months are going to be busy.
We have a design for a patriotic sleeve patch.  Now the trick is to design a white star for superhero sweaters!
(Visited 853 times, 2 visits today)