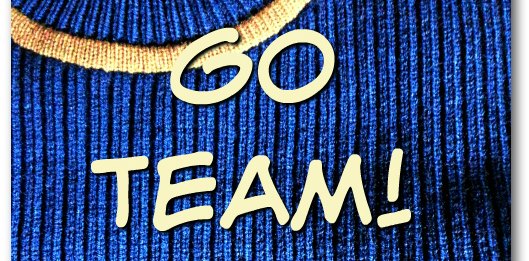 We may earn money or products from the companies mentioned in this post.
Harry Potter Quidditch Sweater  – Team sports are in! The Prisoner of Azkaban® style Team sweater aka a Harry Potter Quidditch sweater is a favorite of Wizarding fans near and far.    Out of the entire collection of Hogwarts© styled reproduction sweaters, it's also my favorite.  In maroon and old gold.
The colors are darker and richer and there is a narrow band of contrast color trim at the bottom of the sweater body and sleeves.
DIY Robes For A Quidditch© Costume!
Putting Together The Perfect Harry Potter Quidditch Costume
In a hurry to complete the original Quidditch costume? Costume shops still offer Deluxe quality robes to wear over the sweater.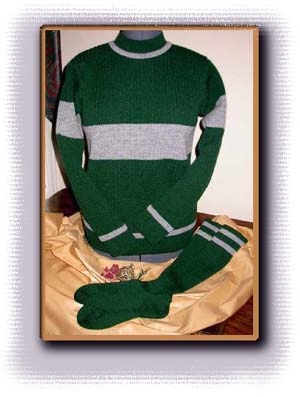 When the tunic like sweater was first seen in the movie, there were few really good photos to study this particular version of fandom knitwear.
Over time, we knit quite a few of heavy ribbed tunic styled sweaters – in all House colors.
Our main computer crashed a couple months ago and took all of our original pics!
Guess we'll just have to knit a sample just to get some new photos.
Can I hear three cheers for the Maroon & Old Gold? 🙂
At Custom Costume Knits, the sweaters come in colors to match the scarves.  The colors seen in the pic are not accurate.
We applied a "comic book" filter to it.  The colors are dark marine blue and silver grey.
In 2016, after 14 years, these colors remain as authentic as possible, particularly when working with acrylic fibers.
We designed the Team Sweater in richer colors, a wider accent stripe at the neck band, and narrow accent stripes near the sleeve "cuff" and near the bottom of the sweater body.
The sweater comes in the following:
Maroon and old gold
Dark green and pewter grey
Dark, "marine" blue with silver grey
Old gold with black
Pick a team to cheer on – Make plans now to attend the US Quidditch Cup this coming Spring!
The Harry Potter Quidditch Sweater Is Super Warm & Comfortable!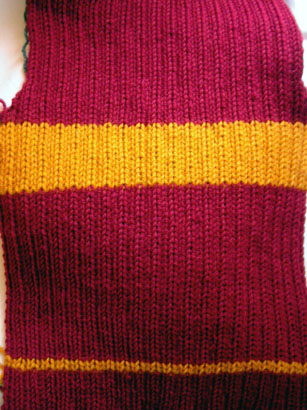 This heavy-weight reproduction pullover sweater is knit of 100% acrylic yarns for softness, durability and wash 'n wear ability.
We knit this style sweater in all 4 Prisoner of Askaban® color combinations. We also use the same unique stitch pattern.
Only the design style has changed!
This unique stitch produces an overall cushiony, padded" effect.
The materials are the same high quality, imported yarns as those used to knit the wizard scarf, the school sweater, and the COS styled Sports Team sweater.
Go ahead!
Change into your sports team sweater and get set for this high energy sport wearing your favorite colors from Hobbie's House of Wizard Wear.
This style is:
Tunic length – Check out these great Knit Rib Fabrics
Has modified set in sleeves,
A rugby shirt "look", with the back slightly longer than the front,
Side seam slits,
And a higher neckline than the original Team Sweater.
This wizarding game is still fast and furious.
You will still need a robe, the protective gear and of course a lightning quick broom.
The Team sweater (in both the COS and the POA styles) is also available in children's sizes.
Knit An Adult Size PoA Team Sweater
Knitting the Harry Potter Quidditch sweater? Send for the sizing and measurements we use as a basis for our custom patterns. These are the measurements we tweak to customize for a perfect fit.
Check out our listing of authentic looking Harry Potter House colors.  These are the colors we've chosen as the closest to the original as seen in the movies.
Resources: Below is the measurement chart we use to knit the Harry Potter Quidditch sweater in sizes for Junior, Ladies and Men.
Basic Measurements for the adult size Quidditch® sweater
Measurements are displayed in this order: BUST, BODY LENGTH AND SLEEVE LENGTH:
JUNIORS
Select the size that comes nearest to your ACTUAL bust measurements.
o Size 7: 34.5 Bust
o Size 9: 35.5 Bust
o Size 11: 36.5 Bust
o Size 13: 37.5 Bust = Ladies Size 12
o Size 15: 39 Bust= Ladies Size 14
LADIES
Select the size that comes nearest to your ACTUAL bust measurement
o Size 8: 35 / 27 / 23
o Size 10: 36 / 27 / 23.25
o Size 12: 37.5 / 27.5 /23.5
o Size 14: 39 / 28 / 23.75
o Size 16: 40.5 / 28.5 / 24
MEN
Select the size that comes nearest to your ACTUAL chest measurement.
o 36: Length 27 Sleeve 24.5
o 38: Length 27.5 Sleeve 25
o 40: Length 28 Sleeve 26
o 42: Length 28 Sleeve 26.25
o 44: Length 28.5 Sleeve 26.25
o 46: Length 28.5 Sleeve 26.5
© custom-costume-knits.com
Order The Quidditch© Style Team Sweater
Both Quidditch sweaters styles are identical in size and fit.
The only difference is in the design.  The POA styled sweater features two narrow stripes at the bottom of the sweater body and at the bottom of the sleeves.  The original Chamber of Secrets© styled sweater does not have any narrow stripes – only the wide chest and sleeve stripes.
As with our entire collection of Hogwarts© styled reproduction sweaters, the Harry Potter© Quidditch sweater comes in all House Colors.
For questions about sizing or any aspect of sweater fit, please do not hesitate to contact Custom Costume Knits.
When emailing us with questions or with any potential order, please include your favorite "style" option (Chamber of Secrets® or Prisoner of Azkaban®) and House Colors.
Our sweaters are knit in premium quality imported acrylic fibers for wash and wearability!
Lochaven® of Scotland produces a beautiful sweater in fine lambswool if you are looking for a more delicate garment. Just be careful when you wash the sweater!
While our version has a longer back than front for a tunic style, it is not as long as the one on the Lochaven® model.
We also decided not to create visible wrist and bottom bands – only because we preferred maintaining the ribbed pattern.
(Visited 1,473 times, 4 visits today)