We may earn money or products from the companies mentioned in this post.
What is wearing ease?  Recently, I came across a question about cardigan measurements submitted on Yahoo Answers more than 5 years ago but what struck me was the diversity of answers to this sizing related query.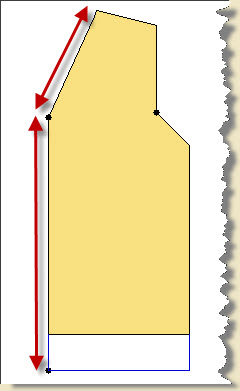 Here's another way to ask the question – "what is sweater ease?"
I simply call it the Size 42 cardigan question!
Allow me to add my response to the question:
"When you knit a cardigan and say that you are a 42 inch chest do you knit it bigger than your actual size?"
The quick and simple answer is YES.
> The first and most important factor in this situation is that you know what your personal (actual) measurements are before selecting one of our free knitting patterns or any pattern.

If you are unsure of your measurements then have a friend help you take accurate measurements.
[yellowbox]
In a hurry?
Here is a great guide book on how to
adapt a knitting pattern for  a great fit
.
Here is
another comprehensive guide
and perhaps the
the only instructions you will need
to knit a sweater or cardigan that fits perfectly. [/yellowbox]

Better yet, take those measurements while wearing the same type of clothing you would normally wear layered under a cardigan.
Ask yourself this question – were those 42 inches measured:
Over the bust line,
On a horizontal line with the floor,
At armpit level?
Tape measures
  have a way of slipping down lower across your back.  All that does is add to the total number of inches.
>  Next in importance (in my opinion) is realizing that there are several ease "measurements" involved in creating any type of garment, be it when sewing stable fabrics or sweater fabrics, whether sewing or knitting.
While we know that stable fabrics have very little give or stretch, we tend to associate sweater and knit fabrics of any kind with lots of stretch.   Yes, some have more stretch than others.  Unfortunately, none of them will stretch enough to cover several sizes. Not even as sweater knits
.
Think of a knitting pattern as you would a paper pattern.  Interested in learning how to draft and adjust a any pattern for a perfect fit?  Buy the Golden Rule Pattern Making System
and create your master pattern. It is very easy to learn.


So What Is Wearing Ease?
 Complete Photo Guide to Perfect FittingIncludes Wearing Ease Chart!
Every drafted knitting pattern (and sewing pattern) design begins with a few the basic measurements. In this instance, let's make it a pattern for a size 42 cardigan.
A certain amount of wearing ease is automatically added to this number so that your finished sweater does not fit like a second skin.
The wearing ease is translated into inches and added to 42 inches.
The pattern diagram will show the adjusted measurement and the instructions will call for the correct number of stitches to reflect that measurement.
By the way, if a pattern does not include a diagram, get out a pencil and a sheet of paper – draw one out yourself to help you visualize all the cardigan pieces. Better yet, visualize a sewing pattern as your next knitting diagram. We do it all the time and many of our past designs started their life as plain sewing pattern!
While sewing patterns include wearing ease, just remember that woven fabrics do not have the same amount of stretch as a sweater knit fabric.
Average wearing ease for a sweater knit cardigan is 3.5 to 4 inches.
The 42 inches translates into a finished 45.5 to 46″ measurement (divided into two fronts, an overlapping button band and a back).   These 4 inches are adequate for a cardigan – as long as you remember that a cardigan is usually layered over other clothing which will in turn "eat up" some of that wearing ease.
Measurements found on a diagram are normally the finished measurements for the cardigan. Check them against your actual numbers and aim for those extra 4 inches.
Negative wearing ease

does exist

!
There is such a thing as negative ease in a garment – particularly in knits.   A bathing suit is the best example of a garment constructed of knit fabric with 4 way stretch
and purposely designed to have negative wearing ease. Why? So it can stretch!
Zero ease in sweater fabric
works only if the fabric is extremely stretchy (as in some ribbed stitches which have tremendous 2 way crosswise give) – in other words, if you can stretch the fabric (knit or sweater fabric) out to provide you with an extra 2 to 4 inches of fabric.
Remember the pick a knit rule from sewing patterns when sewing with knits was all the rage?
Pattern envelopes featured a little ruler to demonstrate how much stretch the ideal fabric should have.
Here is an example where ease plays an important role in the design and "look" of a sweater. Our RENT® sweater was originally designed to have negative ease so it could be as authentic looking as the original.
While the idea here was to have a form fitting sweater (aka a "fitted" sweater), it turns out our customers were uncomfortable with the clingy feel and eventually requested a tiny bit of ease. We gave an inch. No more. That is the bare minimum of wearing ease in an already very stretchy rib knit fabric.
Here is another example of negative wearing ease in a sweater. Think of all those "starlet sweaters
" worn during the 1940s and 50s. How do I know? I know. 🙂
I guess I will have to stand my ground on this one…negative means less than not equal to!
What Is Design Ease?
"Design ease" is nothing more than extra inches added to the 45.5/46 inches to give the design a certain look.
Let's say the cardigan is designed to looks "over-sized". Easy.
Add 4 to 6 more inches to the finished chest measurement. Now the finished cardigan may be a whopping 50 inches or more around the bust. Yes, it is supposed to be that big.
However, if your actual bust measurement is 46 inches instead of 42 inches, then you've just lost that special designer look.   The sweater still fits but not the way it was intended to look.
Usually, a knitting pattern will identify the style as falling into one of the design categories. It could be very fitted, fitted, semi-fitted, average and over sized.
The same cannot be said of sweaters we find hanging (a big no-no) on a rack in a retail store. There is no way of knowing what the designer had in mind.
This is where the Size 42 cardigan question goes out the window. The only gauge of how the sweater or cardigan looks when worn is whether it gives you breathing room when you try it on.
Back To "What Is Wearing Ease" &  The Size 42 Cardigan Question
It is eaier to know specifically which size to knit even if there are a few tweaks required to make the sleeves longer or add a wee bit of wearing ease?
Actually, a pattern that refers to a size 42 for ladies is somewhat misleading. This type of sizing label is usually applied to Men's sweater sizes
.
When a customer needs a size 42 cardigan, we first inquire as to their actual bust measurement.
There's no need to be modest here. If you want the sweater to fit, then you have to come to terms with the actual numbers. No use ordering a custom made garment or spending the time knitting one assuming that it will stretch sufficiently to fit. It is definitely a question of semantics.
A Woman Size 42 Falls In The Plus Size Category
We knit a Woman's size 42 for a person with an actual 46 inch chest measurement.  It falls in the Plus size sweaters and cardigans
category.  That is the actual chest measurement associated with the Women's 42.
The finished semi-fitted cardigan would measure approximately 49.5 inches.
If the actual bust measurement is 42 inches,  we knit a Misses size 18.
The finished semi-fitted cardigan would measure about 46 inches. That's a 3 and 1/2 inch difference in circumference.
Here are the actual measurements we use to draft a pattern for a Misses Size 18 cardigan:
Chest = 42″
Hips = 45″
Shoulder width = 15 .75″
Shoulder seam = 5.25 (This might not seem important to some knitters but the shoulder width plays a very important part in how the sleeves fit).
Sleeve Length = 24.25 inches
Armhole Depth = 10. 5 inches (includes height of shoulder slope)
Wrist = 8.5 inches
Finished cardigan length = 26 inches
Case in point – when knitting for myself, I have to adjust the shoulder width (for a broad back) and the sleeve length thanks to long arms. I also have to remember that sweater fabric stretches. If the shoulder width is too wide, the sleeve will fall off the arm at the shoulders, and thus add to the sleeve length. If the shoulder width is too narrow, the sleeves will ride up onto the shoulder and shorten the sleeve length.
More About Wearing Ease
Using the above measurements, our finished size 42 cardigans are 26 inches in length, with 24.5 inch sleeves and a nearly 46 inch chest circumference. We've added what is considered semi-fitted wearing ease just shy of 4 inches.
A fitted cardigan sweater would have a finished 44.5 chest with just under 2.5 inches of wearing ease.
If we use the standard amount of wearing ease for the Misses 18, then the finished cardigan measures nearly 50 inches around the chest area for approximately 8 inches of added wearing ease.  We consider this to be "over-sized" and yet it does not even qualify for that description. An over sized cardigan
has more room for layering.
Need more sizing details? Just send us an owl…or a note.
Note:  This is a very important point to remember. Take the time to knit and accurately measure a stitch and row swatch before you start knitting you sweater
. Do not knit the wrist band then a few rows and THEN measure your stitch and row gauge. This part of the sweater is never going to give you accurate numbers.
Simply knit a piece of sweater fabric 20 stitches by 30 rows or 40 stitches by 60 rows. The larger the swatch the more accurate the measurement and that's why we buy an extra skein of yarn to knit the swatch.
Record your stitch and row gauge on this piece of sweater fabric. As long as you do not leave it knit long enough for kinks to develop, you can always unravel it to knit the button band.
The stitch and row gauge swatch should be knit and washed or blocked as you would the finished garment – before you measure your stitches and rows.  Then you will have the answer to the "what is wearing ease?" question and how much of it you need to add for a perfect fit.
Several photos (c) Can Stock Photo – Others © custom-costume-knits.com


(Visited 722 times, 4 visits today)