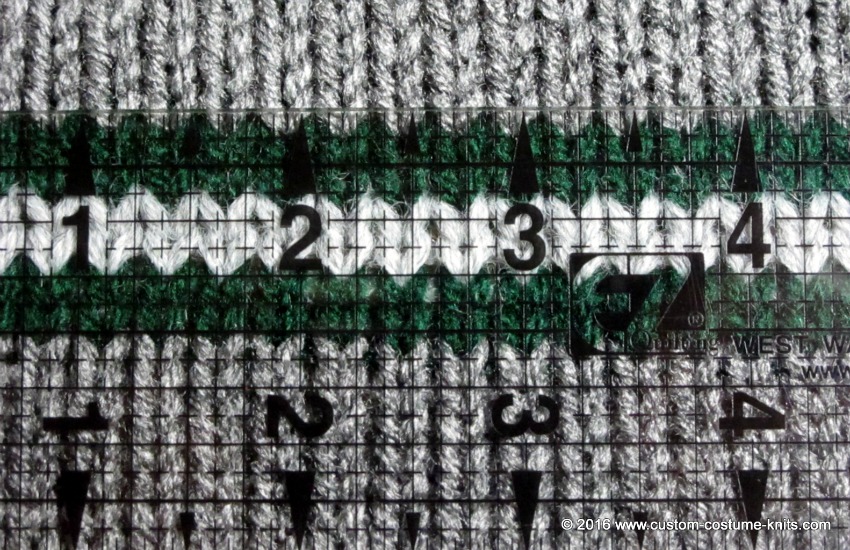 We may earn money or products from the companies mentioned in this post.
School House Colors add that special touch to an otherwise basic sweater. Our reproduction wizard school knitwear features a simple stripe pattern to represent each of the four school houses.
The stripe sequence of "House" colors is added to specific places, depending on the style of sweater you are knitting:
The Original "CoS" Style: In the neckband and along the bottom of the body.
The Newer "PoA" Style: Along the lower part of the body and the sleeves.
In a hurry to get into color work? ====> It's time to master the art of knitting stripes
Knitting School House Colors
Add the stripe pattern 1 or 2 rows above the bottom ribbing.  This stripe pattern goes along the bottom of the vest, the pullover sweater, and the cardigan. It is our opinion, with the benefit of experience, that adding stripes or any fair-isle design, a couple of rows above the ribbing prevents the ribbed stitches from distorting the horizontal edge of the pattern.
The stitch distortion is particularly noticeable when knitting the stripe pattern with worsted weight yarns.
Again, this is OUR opinion, but the idea here is to reproduce the "look" of the Hogwarts© school uniform knits, which includes the proportion of the stripe as a pattern over the entire sweater.
We leave the ultimate placement, and size, of the stripe pattern up to the individual knitter as there are numerous and differing opinions as to the "authentic" placement of the stripe pattern.
School House Colors Stripe Proportions
The sample on the immediate left, knit in Patons® Classic Merino Wool, illustrates a 2/2/2 "Chamber of Secrets© style" stripe sequence.
At this stitch and row gauge, the House stripe pattern is .94 inches wide.
The width of the full stripe may be "in proportion" for an adult sized sweater but too wide, and seemingly out of proportion on a child's pullover.
When knitting a child's sweater, you may want to reduce the width of the stripe by working a 1/1/1 row sequence.
Stripes In Various Yarn Weights
Displayed below are stripe patterns knit in various yarns, wool, and acrylic.
They illustrate the difference in the width of the stripe pattern when using different yarns.

The blue and pale gray rib-knit scarf sample is knit in Lion Brand© yarns. In this rib knit sample, a 4-row stripe was nearly one inch wide.
With KnitPicks© Swish Merino Wool, the narrow/wide/narrow look of the POA stripe, and maintain a good proportion, we had to reduce the stripe pattern to a total of four rows.
In stockinette stitch, using the same Merino Wool, the classic Chamber of Secrets® styled House stripe pattern should not be more than four rows wide to maintain proportion in an adult sized sweater.
(Visited 425 times, 1 visits today)