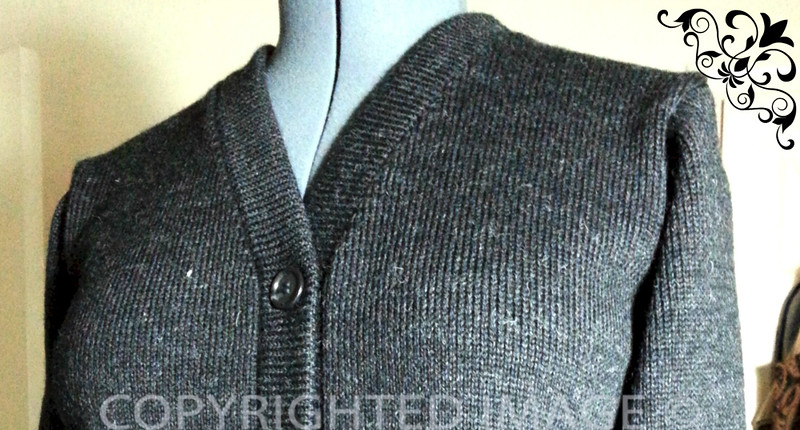 We may earn money or products from the companies mentioned in this post.
Wizard school uniform cardigans –  We're talking Hogwarts® styled replica school uniforms cardigan sweaters as seen in the Order of the Phoenix® movie.
We've sold hundreds of the school uniform cardigans in all House colors.
The Wizard School cardigan is a classic knit in the dark charcoal (nearly black) 100% wool.
Easy to wear and comfortable, the cardigan is perfect for the layered look. It is also available in regular charcoal grey.
At Hobbie's House, we knit the standard school uniform cardigan in all "House" colors as well as custom colors.
Moreover, wearing a cardigan is now cool.  Buttoned or zippered, Mister Rogers made the cardigan his trademark.
Remember the varsity sweater? During the past year, we have received many requests for school sweaters, more specifically, reproductions of varsity sweaters for High School and College alumni groups.
Varsity sweaters are also found as pullovers but the more common style is the cardigan or letter sweater.
When Deathly Hallows made its historical debut into the world, my twin brother and I thought it would be fun to actually go all out and dress for the occasion.

We are faithful into the houses we had been sorted into — he's a Gryffindor and I'm a Ravenclaw.

So we decided to come to Hobbie's House of Wizard Wear where we had bought our house scarves a couple years prior.

We ordered our house cardigans and waited anxiously for them to arrive in the mail.

We received them in time to dress up for the book's midnight release, and let me tell you…it was HOT.

July in Arizona is not the time or place to be wearing cardigans, but we are die hard fans. It was worth it!

We both even came in first place for the costume competition!

Thanks to Hobbie's for his OOTP maroon/old gold cardigan and my OOTP dark blue/bronze cardigan, we had a memorable year!

We are thrilled to be dressing up again for the Half-Blood Prince movie release…and even more so because the weather will be more agreeable with our wardrobe!      Thanks again!!!

---
Details: School Uniform Cardigans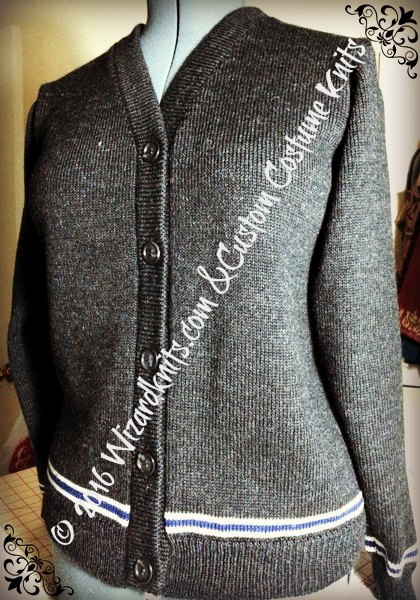 At Hogwarts©, the cardigan is obviously gaining in popularity and worn by more students.
Walking to your next "Magic Spells" class or simply as a change to your school uniform wardrobe, the cardigan will never go out of style.
This is the ideal garment to customize with your own school colors.
By defaualt, the cardigan is knit in the same dark charcoal grey, 100% wool as the pullover sweater.
It can also be knit in regulation school grey.
It is an easy to wear cardigan with a modified sleeve designed to reduce the bulk normally associated with this style of cardigan.
Other details include a five button front closure with buttons which are nearly black.
House colors adorn the bottom of the cardigan bodies and sleeves with a narrow/wide/narrow stripe.
Cardigans are knit in 100% wool and we strongly recommend dry cleaning.
The Cardigan Makes Fashion History
The cardigan, this knitted garment that buttons or zips down the front, was named after James Thomas Brudenell, Seventh earl of Cardigan – a British general during the Crimean War.
Brudenell also led the Charge of the Light Brigade, immortalized by Lord Tennyson's poem.
With the help of inherited wealth, he set out to make his military regiment the best-dressed in the service by introducing the cardigan jacket.
From personal experience, we can vouch that the cardigan has always been an integral part of the British school uniform. Our school colors were navy and light blue.
So why not add a cardigan to your wardrobe – they are popular indeed and come in so many different styles – cropped, hooded, long, buttoned, zippered too.
(Visited 1,195 times, 5 visits today)