We may earn money or products from the companies mentioned in this post.
Harry Potter Gryffindor Scarves can now be personalized with styled initials.
The original Chamber of Secrets® styled scarf is as popular as ever.  A customer placed a special request for initials. We thought we'd share the results!
In a hurry? ===> Wow!  Have you seen this scarf?  What about this licensed version? Both are very unique!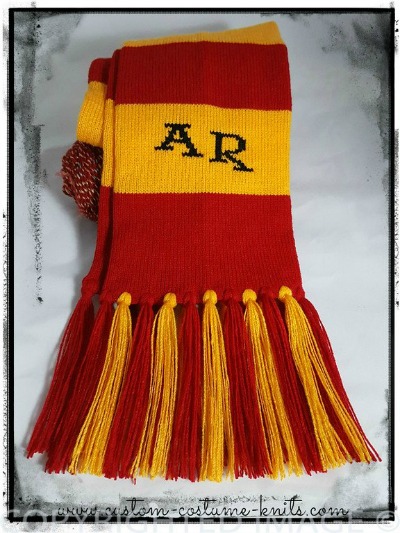 Now you can buy the Chamber of Secrets® styled scarf in a unique, personalized version.
The initials are all slightly different in size and perfect for adding on a slight angle.
How To Order Monogrammed Harry Potter Gryffindor Scarves
Order a regular Chamber of Secrets© style wizard scarf.  When placing the order, be sure to add "monogrammed" and include the 2 initials.
A flat panel scarf, the scarf is knit in a soft acrylic yarn with a touch of nylon. We've made sure to find the same authentic color range as our original "wizard scarves".
Machine washable and dryable on low heat, the scarf makes a perfect gift for any Harry Potter fan.
The best feature of these initals is that they fit perfectly on a sweater embroidered near the left shoulder. It's a nice variation on the single huge initial of the Weasley sweater!
Please note that this product is a reproduction scarf of our own design.  The monogrammed scarf is not available for immediate shipment.


Home Page › Harry Potter Scarves › Gryffindor Scarves
(Visited 897 times, 3 visits today)