We may earn money or products from the companies mentioned in this post.
How to measure a sweater –  Do you have a favorite sweater? You know, one that fits exactly the way you want it to?
All clothes manufactured from woven fabrics, from designer to off the rack at Target, are drafted according to standard body measurements plus wearing ease (added inches so we can get into those clothes) and design ease.
Design ease is entirely the realm of the clothing designer.  They can make the shirts take on a classic look, the fitted look or now, as they offer in jeans, an athletic fit.  All these different looks can be attributed to design ease or extra inches, above and beyond the wearing ease, to give these garments a certain look.
Remember when "oversized" was the look?  The clothes were supposed to look big when worn.  Technically, oversized equals 10 to 12 inches of extra fabric.  
Do you buy a larger size because you like your clothes to be loose?  That's fine as long as you remember that a large size is not the same thing as "oversized" as part of the design element and that your wearing ease was actually swallowed up by the design ease.  The design element has disappeared because the item visually fits you comfortably.
The same theory applies if you like your clothes to be more "fitted".   If the article of clothing is not oversized or fitted in relation to you actual body measurements, then all manner of problems can ensure – tight armholes, overall length too short, narrow shoulder width….
The very same problem  applies to knitwear.  In fact, it is amplified to a certain extent because even the simplest of knit fabrics is inherently stretchy.
How To Measure A Sweater
Select a favorite sweater and gather a few materails – a pencil, a fabric measuring tape and a notepad.  Ready to gather some sweater measurements?
All you need in order to get the proper fit in Hobbie's House knitwear isto  compare a few basic body measurements to sweater measurements (a sweater that fits you well):
Bust/chest at the widest part of the underarms,
Sweater body length from high shoulder to the bottom edge,
Shoulder width from sleeve seam to sleeve seam and
Sleeve length from shoulder seam to cuff edge.
Remember that the Hogwarts® styled sweaters are unique in their fit and look but these few measurements will help you choose just the right fit whether you opt for the custom sized sweater or the standard size.
These measurements will determine the size you should order and the amount of customizing, if any, that needs to be done.
They can also help you select the appropriate standard size.
The School Sweater is worn layered over a long sleeve shirt and tie. Take your bust/chest measurement over a shirt similar to the one you will be wearing with your costume.
Consider this new measurement to be your actual bust/chest measurement. You'll be surprised at how quickly a couple layers of clothing take up extra space and reduce the overall wearing ease.
The Team Sweater is probably worn with nothing more than an undershirt. Undergarments will not affect the fit.
However, due to it's unique, stretchy knit fabric design, Hobbie's Sports Team Sweater has a minimum of wearing and design ease built into the finished sweater.
For the Team Sweater, select the sweater size that is closest to your actual bust or chest measurement.
Consider your height and body type when selecting a size. It will help you in determining the correct sweater body length.
Misses and Mens' set-in sleeve sweaters differ slightly in width across the back shoulder: Misses are narrower while Mens are wider.


Ladies, for a great fit, please order from the Misses sizes so that the shoulder line of your sleeve sits at the shoulder rather than an inch or so down from your shoulder line.
The photo below shows where to place the tape measure to correctly measure the back width of a good fitting sweater – from shoulder seam to shoulder seam.
We are always available to verify sizing prior to ordering so please be sure to contact us to review sizing information – it's a free service.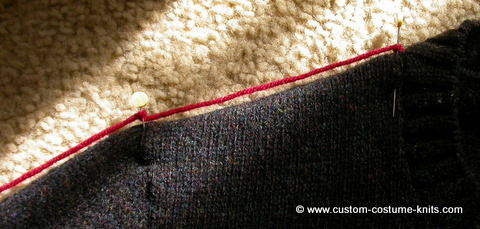 We are not responsible for poor fit and refunds are not applicable if we are not provided with accurate information or, at a minimum, contacted for help in determining which size to order.


In more than a decade of "virtual" custom fitting, we have yet to misjudge the size a customer requires for a great fit.
If you do not see a size that "fits" you, why not contact form found on the FAQ page.
We'll quickly customize an individual size for you.
Please review our individual and standard sizing charts for Children, Juniors, Petites, Misses and Men. Be sure to contact us for help in how to measure a sweater.
(Visited 1,507 times, 5 visits today)