We may earn money or products from the companies mentioned in this post.
Custom sized  sweaters?  Yes, it is possible to order a custom sized sweater for costuming purposes.
At Hobbie's House, custom knitting is our business and custom sized sweaters our specialty.  It's been our niche since 1975, long before we opened the doors to a virtual Hobbie's House of Wizard Wear.
Interested in getting a great fit in your knitting? The Guide To Custom Knit And Style will uncover all the secrets to a perfect fitting sweater.
Early on, our specialty was custom sized sweaters for children, but it soon evolved into personal fit knits for parents as well!
Here's a way to add a personal custom touch to your Harry Potter© styled knits – The sweater fits but you can also customize it with unique colors.
Custom knitting gives you the freedom to put your *stamp* on any sweater or scarf we offer. You can customize the width, the length, the colors, even combine two styles.  The possibilities are endless.
Ideas For Custom Sized Sweaters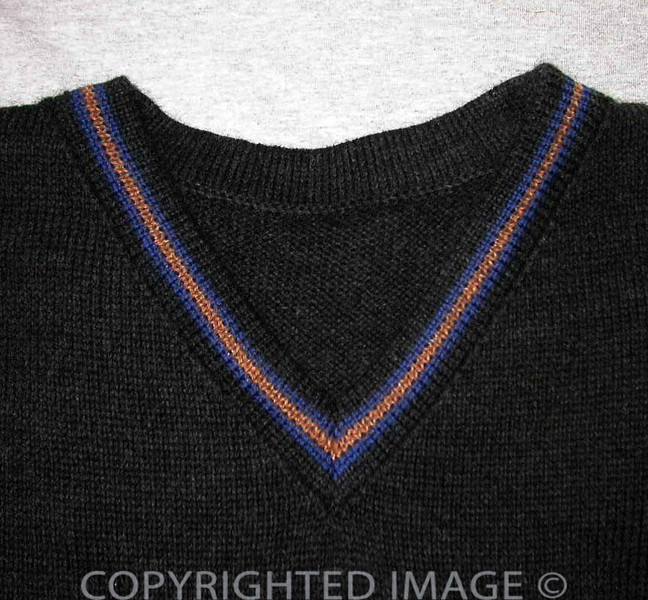 Here are just a few ways customers have customized their wizard knits.
A  student from Arizona combined the original sweater style with the colors and materials of the *new style* sweater for a really classy look!   The sweater is knit in the dark charcoal, 100% wool, with dark blue and bronze colored trim.   For the "bronze", we selected an incredibly soft, pure alpaca yarn in a rich, tweedy shade.
Another "Wizard" requested a *skinny* version of the trapped bar scarf. We knit them to be only 7 inches wide instead of the standard 9

inches.To

ward off the winter chill, an Ivy League student requested the standard width, trapped bar scarf but in the school colors – dark blue and crimson.
The school scarf was magically transformed into a Premier League soccer fan scarf.
Another very special student requested a scarf made in her university colors of blue and grey.
Top FAQ Regarding Custom Sized Sweaters
"How much extra does it cost to modify the size or color of a sweater or scarf?

I would like to order the New Style School Sweater in my University colors of Slate and Maroon.

Can this be done and will it cost more? I normally wear a Large but I need a longer sleeve.  Will it cost more to lengthen the sleeves?"
Each question related to customizing our knitwear is slightly different but this was our response to the question above:
There is no extra cost to customize the size or color of Hobbie's wizard wear sweaters or scarves as long as the request does not involve the drafting of a whole new pattern and the materials remain the same.

Our basic "no cost" customizing refers to:

Minor sizing alterations: sleeve length, body length and a different "fit";
Custom "House" colors (when available);
Current scarf styles knit in custom colors (Sports Team, High School or University).

"Can you make sweaters based on requested size measurements?"

Custom sizing is our specialty.

Although we offer our sweaters and cardigans in a range of standard sizes, each sweater from Hobbie's House of Wizard Wear is still custom knit to order – just for you.

Each product page includes a range of available sizes.   We can customize standard sizes by using custom measurements provided by the customer.

Customers should discuss their sizing preference prior to ordering.  We recommend visitors take advantage of our free service – to communicate with us, prior to ordering, and ask any questions about fit, sizing and measurements to ensure a near perfect fit.

It is not quite the same as having us take your measurements in person but we can honestly say that, if we are provided with accurate measurements, your custom knit sweaters will fit as close to perfect as the virtual world will allow.
(Visited 225 times, 1 visits today)