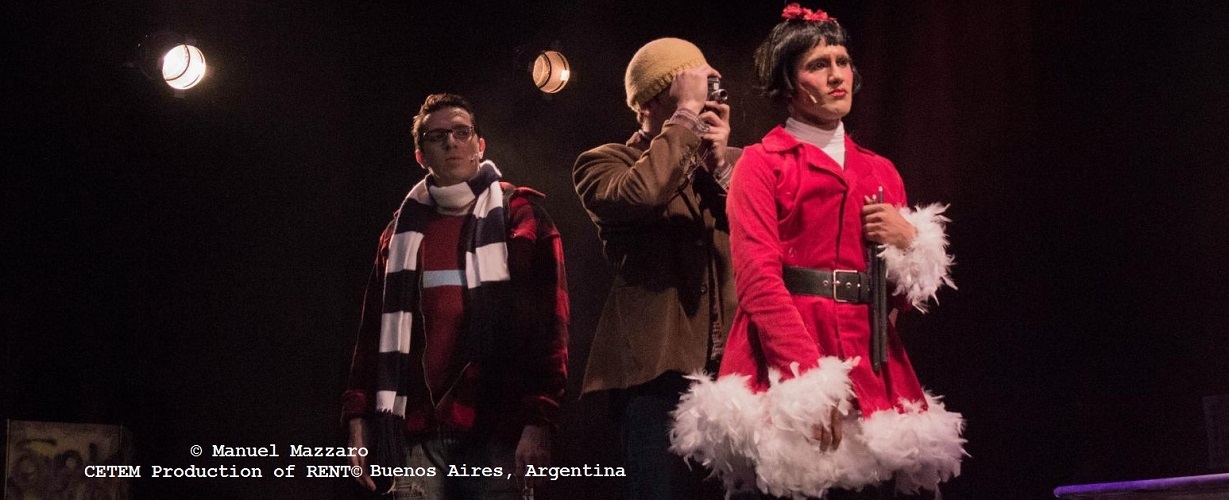 We may earn money or products from the companies mentioned in this post.
Mark Cohens RENT sweater is custom made to order.  Even his trademark scarf is available in a one size fits all regular width and a trendy narrow width!
You've just landed the role of Mark Cohen in a production of the ever-popular musical RENT®.
For us, it all began in 2005 with a special customer request for a custom-made RENT musical costume sweater.  The short note asked if, by chance, we could knit a "special" design. The customer needed a sweater in maroon and light blue with a wide crew neckline trimmed with a narrow, contrasting band.
Update 4/1/2019: Due to unexpected circumstances, we will not be taking any NEW orders at this time. All orders currently in the production queue will be completed in the sequence received. Thank you for your understanding.
Mark Cohens RENT Sweater
Could we please reproduce it? Her plan was to wear it when attending the movie premiere.  The special design? A reproduction of the sweater and scarf worn by "Mark Cohen" in the movie version of the ever popular Broadway show.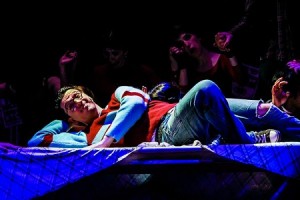 Since that very first order, our original design has become and continues to be a best seller.
Even today, we knit the sweater and scarf for those lucky enough to have landed the role of Mark Cohen in off-Broadway productions.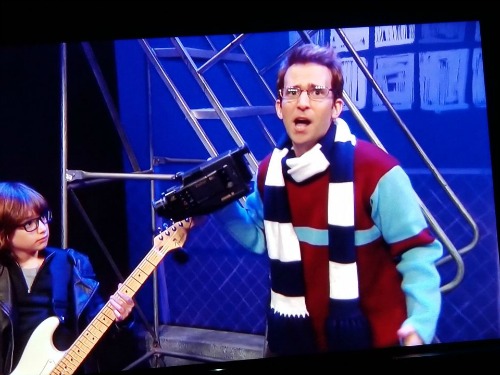 Here is a scene from the CETEM production of RENT® in Buenos Aires, Argentina.
The performance was in October 2013. They were kind enough to send us a veritable gallery of actual performance and production stills. Do you know any of the actors?
Mark Cohens RENT Sweater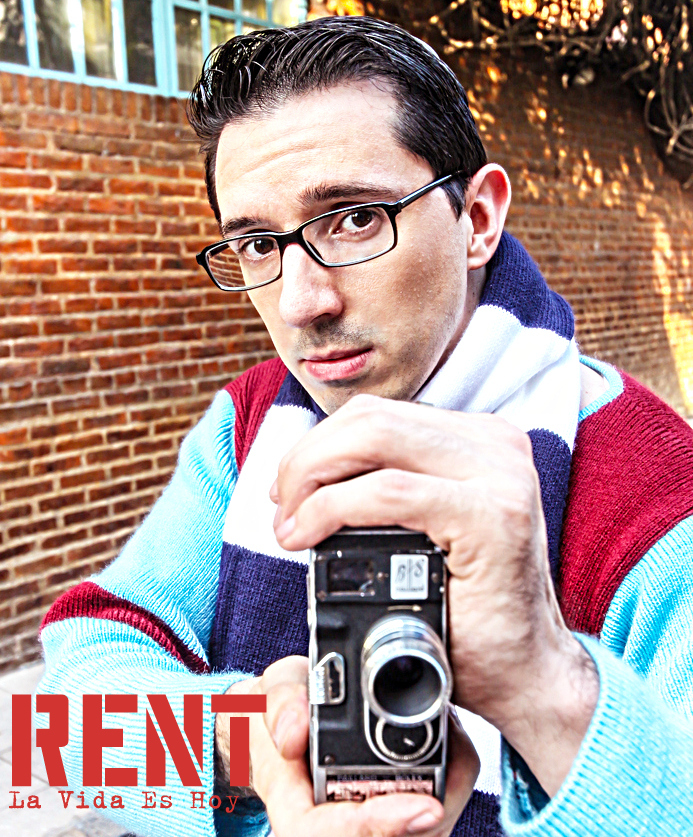 Standard Versus Custom Sizes: A Personal Fit For Mark Cohens RENT Sweater
To ensure a perfect fit, each RENT© styled sweater is custom sized and knit to personal specifications.
As a result, the sweaters are not available for immediate shipment.    At this time, we offer monthly delivery dates.  Orders are completed in the sequence received and within a particular delivery window.
We are working on having some standard sizes available for immediate shipment.
The most popular Men's standard sizes are the following:  
Men's 36
Men's 40
Men's 42
The Men's 38 and 42 are "customized" more often than other sizes.
First come, first served.  We process all orders in the order received.
Please order early if you need a Mark Cohen' s RENT sweater or sweater set before the actual opening performance date:
Promotional events or theater production date

.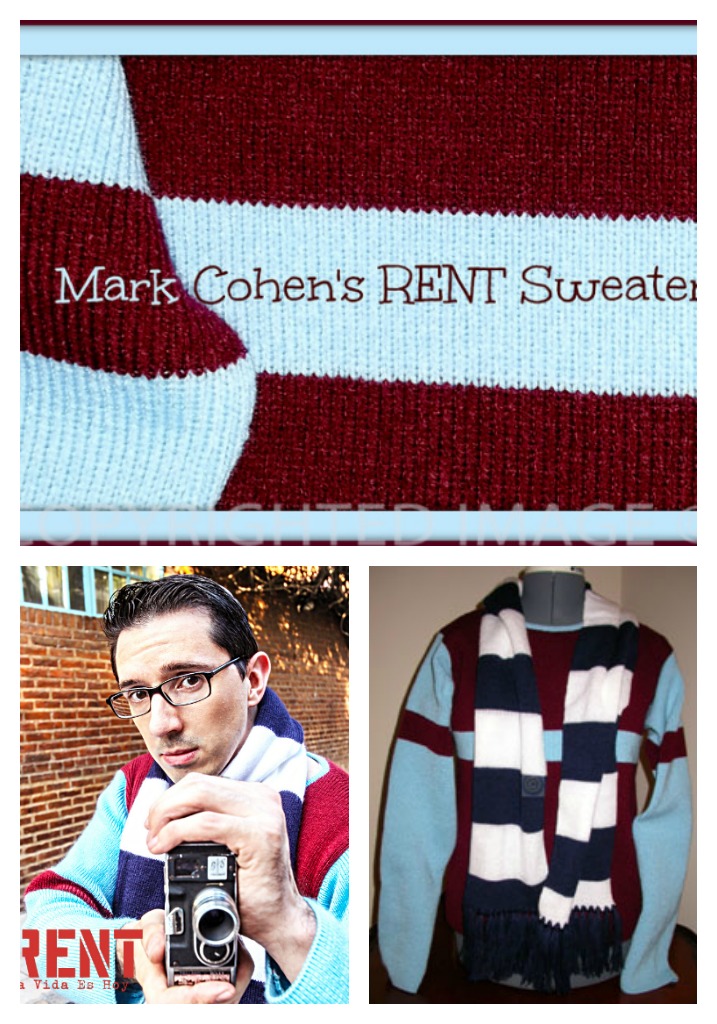 Turn Around Time
A minimum amount of turn around time is required to knit and assemble the fully fashioned sweater.    Orders are placed in the production queue according to a single specific "due by" date.
Shipping  Rates & Transit Time Have Increased!
When determining if a sweater order can be processed within a short "rush order" time frame window, we add the "standard" transit time within the Continental USA.   Even Priority Mail Express Shipping now requires 2 full days.  Currently, Express rates begin at $37.50.
Shipping within the continental United States via USPS Priority Mail is currently a full 3 days – Transit time does not include turn around time.  Due to the weight of our sweaters we often use a Flat Rate shipping or Regional Rate.
International shipping rates are in a league of their own!  First Class Mail International is still the least expensive way to ship but transit time has become quite unpredictable.
In order to track an international package beyond the USA, we would have to upgrade shipping to Priority Mail International.  Rates begin at $66.00.
Rush orders for Mark Cohens RENT Sweater are rarely possible but given a reasonable window, we always do our best to get the sweater and scarf to you in time for the performance!
Have a question about sizing or fit?  Share your concerns and questions.  Please drop us a line to discuss the best fit for your Mark Cohen's RENT Sweater!
(Visited 6,415 times, 43 visits today)